Professionals
Practice Areas
Honors
Admissions
State of New York, 2008

U.S. District Court, District of Connecticut, 2007
State of Connecticut, 2006
Education
The University of New Hampshire School of Law (formerly known as the Franklin Pierce Law Center) J.D., concentration in Intellectual Property, 2006
University of Connecticut, B.A., Political Science & History, cum laude, 2003
Teaching Positions
Adjunct Professor, Western New England University School of Law, Copyright Law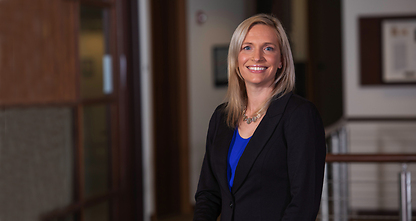 Michelle P. Ciotola
Partner, Vice Chair of the Trademark & Copyright Department, Co-Chair of the Consumer Products Practice
As Partner and Vice Chair of the Trademark & Copyright Department of Cantor Colburn, Michelle Ciotola concentrates her practice on counseling, protecting and enforcing trademark, trade dress, copyright, and related intellectual property rights, as well as counseling clients in unfair competition, Internet, advertising, and promotions law.
She assists clients in the development and exploitation of their trademark portfolios, including clearance of marks; prosecution of trademark applications before the U.S. Patent and Trademark Office; and identifying important overseas jurisdiction and filing or coordinating with local counsel for protection and enforcement of marks in those jurisdictions. Michelle develops strategies for the enforcement of her clients' intellectual property rights, including preparing demand letters, negotiating settlement agreements, handling opposition and cancellation actions before the U.S. Trademark Trial and Appeal Board, and coordinating and overseeing litigation with local counsel around the world. She also develops strategies for enforcement of her clients' intellectual property rights online, including handling Uniform Domain Name Dispute Resolution Policy proceedings. Michelle files and prosecutes applications for copyright registration with the U.S. Copyright Office and advises clients on copyright law. She represents clients in trademark due diligence. She drafts and negotiates a wide range of intellectual property agreements, including assignments, licenses, and trademark consent and coexistence agreements.
Michelle attends and speaks at the world's leading trademark industry association gatherings, including the International Trademark Association (INTA), MARQUES, the European brand owner association, European Communities Trade Mark Association (ECTA) and the Asociancion InterAmericana de la Propriedad Intelectual (ASIPI).
Experience Highlights
Partner, Cantor Colburn LLP, 2016 - present
Counsel, Cantor Colburn LLP, 2015 - 2016
Associate, Cantor Colburn LLP, 2006 - 2014
Legal Internship, LEGO Systems, Inc., January 2006 - May 2006
News
April 14, 2021

May 28, 2020

May 28, 2020

July 22, 2019

Supreme Court Finds New Protection for Trademark Owners Who Wish to Obtain Immoral or Scandalous Trademarks.

February 19, 2018

Cantor Colburn partner Michelle Ciotola was quoted in the article "CT lawsuit tests Google's keyword search ad treatment," (Hartford Business Journal, February 19, 2018) about the lawsuit filed by Edible Arrangements against Google, in which Edible Arrangements demands $209 million in damages and other penalties for trademark infringement and unfair competition and trade practices. Ciotola is chair of the firm's Trademark & Copyright Department.

October 23, 2016

On October 19, 2016, more than 30 artists attended a seminar on "Creativity and the Law," presented by members of Cantor Colburn's Trademark & Copyright Department. Working with the Greater Hartford Arts Council, a nonprofit supporting arts organizations for more than 45 years, these artists were invited to a seminar about the basics of copyright protection as it relates to their art and livelihood.

June 30, 2016

Cantor Colburn is pleased to announce the election of Michelle Ciotola to Partner, effective June 15, 2016. Michelle will also become the firm's Trademark & Copyright Department Vice Chair.

Law 360

June 17, 2016

Michelle Ciotola comments in IP Law 360 on the significance of the Supreme Court's June 17, 2016 ruling in Kirtsaeng v. John Wiley & Sons.

July 23, 2015

Michelle Ciotola, an attorney in Cantor Colburn LLP's Trademark & Copyright Department, was selected for inclusion in the forthcoming Top Attorneys of North America edition of The Heritage Registry of Who's Who, a biographical publication that selects and distinguishes leading professionals throughout North America who have attained a recognizable degree of success in their field of endeavor and thereby contribute to the growth of their industry and profession.

Ms. Ciotola, who was promoted to Counsel at the firm this January, concentrates her practice on counseling, protecting and enforcing trademark, trade dress, copyright, and related intellectual property rights, as well as counseling clients in unfair competition, Internet, advertising, and promotions law.

The Connecticut Law Tribune

April 20, 2015

Michelle P. Ciotola co-authored the article "Fuzzy Jury Instructions Affected 'Blurred Lines' Case, High-Profile Dispute Reveals Nuances in Music Copyright Laws," published in The Connecticut Law Tribune on April 20, 2015. The Marvin Gaye estate won a $7.4 million judgment after months of legal drama regarding the Robin Thicke / Pharrell Williams song "Blurred Lines," which they claimed was stolen from Gaye's "Got to Give It Up." Pelletier and Ciotola's article highlights the importance of properly instructing a jury in the intricacies of Copyright Law.

January 22, 2015

Trademark Counsel Michelle Ciotola comments in IP Law 360 on the significance of the Supreme Court's January 21, 2015 ruling in Hana Financial Inc. v. Hana Bank. The court unanimously ruled that so-called trademark tacking is a factual question that should be dealt with by juries.

October 20, 2014

Michelle P. Ciotola, a trademark associate attorney at Cantor Colburn, has been selected as a Connecticut Super Lawyers Rising Star in intellectual property for 2014. This is her fourth year receiving this recognition.

July 11, 2014

Hartford, Conn. — Cantor Colburn will host the September 2014 International Trademark Association (INTA) Trademark Assistant (TMA) roundtable, The Office Action: A Challenge or a Cinch?, in the firm's Hartford office on September 11th.

October 21, 2013

October 10, 2013

Cantor Colburn LLP has been recognized by 10 different organizations and publications- which heralded 14 attorneys in particular- for excellence in their work in 2013. The Legal 500 has applauded the firm for its "solid reputation in the market of providing an excellent level of service, and having an excellent value for money." From accolades for the firm as a whole to specific recognition of Cantor Colburn attorneys in diverse practice areas within the field of intellectual property, the firm has enjoyed an abundance of recognition in 2013.

November 8, 2011
Events
October 1, 2021

Louisville, Kentucky

Patent attorney Tina Dorr, Ph.D., Esq. and trademark and copyright attorney Michelle Ciotola, partners at Cantor Colburn, will attend Made in America 2021, taking place on October 1-3, 2021 in Louisville, Kentucky. Their article, The Seven Deadly Sins of IP, covers the basics of IP for business owners and start ups.

May 4, 2021

Thousands of women IP professionals are gathering virtually on Tuesday, May 4, 1:30-2:30 PM to discuss themes of optimism and hard work from Michelle Obama's memoir, Becoming. Cantor Colburn is proud to host a discussion group hosted by partners Jenae Gureff and Michelle Ciotola. RSVP: contact@cantorcolburn.com.

April 14, 2021

September 30, 2020

Hartford, Connecticut and Beyond

Cantor Colburn is hosting an AIPLA women's networking and bourbon tasting event via Zoom on Wednesday, September 30, 2020 from 6-7 PM EST, "Building Bonds Over Bourbon: Conversations with IP Colleagues." Our program will enhance networking skills: we'll have a bourbon tasting, learn and practice techniques for building relationships, and discuss IP issues in breakout groups.

May 28, 2020

Michelle Ciotola will be a panelist for the webinar, "Global Trademark Portfolio ... expert tips to lower cost and risk," presented by Novagraaf on May 28, 2020. Novagraaf's Alastair Rawlence, Senior Trademark Attorney, and Toon Simons, Managing Director of IP Services, Trademarks, will also be panelists, as will Sofya Nadgorny, Associate Counsel, Trademarks and Domain Names at Warner Music Group.

May 28, 2020

December 3, 2019

Hartford, Connecticut

Alison Caless will participate on an IP Ethics CLE panel for the IP section of the Connecticut Bar on December 3, 2019; 2 CLE Ethics credits are available in CT and NY. Alison is a member of the CBA's IP Section.

November 19, 2019

Austin, Texas

October 27, 2019

Lima, Peru

Michelle Ciotola and Curt Krechevsky will attend the Annual Meeting of the Asociación Interamericana de la Propiedad Intelectual ("Inter-American Association of Intellectual Property" or "ASIPI") in Lima, Peru, October 27-30, 2019.

September 17, 2019

Dublin, Ireland

May 18, 2019

Boston, Massachusetts

January 30, 2019

Cantor Colburn's Hartford Office

The Copyright Team at Cantor Colburn will present, "Creativity and the Law: What Every Artist Should Know About Their Creations," presented in partnership with the Greater Hartford Arts Council. This session is a copyright basics seminar for artists in all media.

Presenting are Michelle Ciotola, Partner and Trademark & Copyright Department Vice Chair, Associates Ali Caless and Ben Cantor, and Senior Trademark paralegal Crysta Lemon Schmidt.

November 25, 2018

Rio, Brazil

Michelle Ciotola will attend ASIPI Rio 2018. She is a partner and Vice Chair of Cantor Colburn's Trademark & Copyright Department. She is an active member of INTA, ECTA, and MARQUES, and her practice encompasses all aspects of trademark and copyright law.

November 6, 2018

New Orleans, Louisiana

The INTA 2018 Leadership Meeting will take place November 6-9, 2018 in New Orleans, Louisiana. It brings together INTA volunteer leaders once a year to advance the Association's objectives and goals.

November 3, 2018

The Society Room, Hartford

Cantor Colburn is proud to be a Magic Moments Sponsor of the Nutmeg Big Brothers Big Sisters, Start Something Big Gala being held at The Society Room at 6:00PM

September 18, 2018

Paris, France

Michelle Ciotola, Partner and Trademark & Copyright Department Vice Chair, Thomas Mango, Trademark Litigation Partner, and Alison Caless, Trademark Associate, will attend The MARQUES 32nd Annual Conference that takes place on September 18-21, 2018 in Paris, France. This year's conference theme is "Branding Style: Appearance, Aesthetics and Éclat." Many sessions will focus on topics such as branding, design and luxury goods.

June 13, 2018

Athens, Greece

Michael Cantor, Co-Managing Partner, and Michelle Ciotola, Partner and Vice Chair of the Trademark & Copyright Department, will attend the ECTA's 37th Annual Conference in Athens, Greece. ECTA (the European Communities Trade Mark Association) promotes the knowledge and professionalism of members and owners alike in the fields of trade marks, designs, copyright and other IP rights within the European Union.

May 19, 2018

Seattle, Washington

The 140th annual meeting of the International Trademark Association (INTA) will take place in Seattle, Washington from May 19-23, 2018. Nearly 10,000 intellectual property professionals from around the world will attend, including a large delegation from Cantor Colburn.

December 5, 2017

Hartford, Connecticut

Cantor Colburn's copyright attorneys are pleased to partner with the Greater Hartford Arts Council and present a copyright basics seminar for artists in all media. This session will inform artists about the rights and protections available to them regarding their creations.

November 7, 2017

Washington, D.C.

The 2017 INTA (International Trademark Association) Leadership Meeting, November 7-10, 2017 in Washington, D.C., brings together INTA volunteer leaders once a year to advance the Association's objectives and goals. It offers them an advanced-level educational program and the opportunity to conduct business and network with colleagues from around the world.

September 19, 2017

Prague, Czech Republic

July 19, 2017

New York, NY

The New York Intellectual Property Law Association presented Hot Topics in IP Law, Trademark Ethics 101: Investigations, Advance Consents and Terminating Client Relationships at the Princeton Club in New York City on July 19, 2017. Gerard F. Rogers, Chief Administrative Judge of the Trademark Trial and Appeal Board, spoke at the event.

June 28, 2017

Budapest, Hungary

Michelle P. Ciotola, Partner and Vice Chair of the firm's Trademark & Copyright Department, attended the European Communities Trade Mark Association (ECTA) 34th Annual Conference in Budapest, Hungary, on June 28, 2017.

May 20, 2017

Barcelona, Spain

The 139th annual meeting of the International Trademark Association (INTA) took place in Barcelona, Spain from May 20-24, 2017 and was attended by more than 9,500 trademark professionals including a large delegation from Cantor Colburn.

November 15, 2016

Hollywood, Florida

The 2016 INTA Leadership Meeting, November 15-18 in Hollywood, Florida, brings together INTA volunteer leaders once a year to advance the Association's objectives and goals. It offers them an advanced-level educational program and the opportunity to conduct business and network with colleagues from around the world.

INTA is a global association of trademark owners and professionals dedicated to supporting trademarks and related intellectual property in order to protect consumers and to promote fair and effective commerce.

October 19, 2016

Hartford, Connecticut

Cantor Colburn presents a seminar for artists on copyright law through our partnership with the Greater Hartford Arts Council, entitled "Creativity and the Law." Cantor Colburn attorneys will show the importance of using intellectual property law, especially copyright law, to protect artists.

July 27, 2016

Alicante, Spain

Michelle Ciotola, Partner and Trademark & Copyright Department Vice Chair, will attend The MARQUES 30th Annual Conference that takes place on September 20-23, 2016 in Alicante, Spain. This year's conference theme is BRANDS versus TRADEMARKS - TRADEMARKS versus BRANDS. Many of the sessions will address different aspects of this question, focusing on the legal issues and challenges of brands vs trademarks.

International Trademark Association (INTA) Annual Meeting

May 21, 2016

Orlando, Florida

November 17, 2015

Panama City, Panama

The INTA Leadership Meeting brings together INTA volunteer leaders once a year to advance the Association's objectives and goals.

September 14, 2015

Vienna, Austria

June 10, 2015

Hamburg, Germany

May 4, 2015

San Diego, California

Trademark Counsel Michelle Ciotola gave a presentation entitled "What They Didn't Teach You in Law School about Trademark Law" during the International Trademark Association (INTA) Annual Meeting 2015 Career Development Day.

May 2, 2015

San Diego, California

The 137th annual meeting of the International Trademark Association (INTA) takes place in San Diego, California and will be attended by more than 9,500 trademark professionals including a large delegation from Cantor Colburn.

INTA Leadership Meeting 2014

November 11, 2014

Phoenix, Arizona

September 11, 2014

Hartford, CT

Cantor Colburn will host the September 2014 International Trademark Association (INTA) Trademark Assistant (TMA) roundtable, The Office Action: A Challenge or a Cinch?, in the firm's Hartford office on September 11th.

May 6, 2013

Dallas, Texas

Trademark Counsel Michelle Ciotola gave a presentation entitled "What They Didn't Teach You in Law School about Trademark Law" during the International Trademark Association (INTA) Annual Meeting 2013 Career Development Day.

INTA 135th Annual Meeting

May 4, 2013

Dallas, Texas

International Trademark Association (INTA) Annual Meeting 2012

May 5, 2012

Washington, D.C.

Speaker, "Patent, Trademark and Copyright Overview"

March 2012

Women's Enterprise Development Center, White Plains, NY

International Trademark Association (INTA) Annual Meeting

May 14, 2011

San Francisco, California

Moderator, International Trademark Association Panel Discussion: Careers in Trademark Law

May 2011

International Trademark Association Annual Meeting, San Francisco, CA

Facilitator, International Trademark Association Working Lunch for Law Students

May 2011

International Trademark Association Annual Meeting, San Francisco, CA

Speaker, International Trademark Association Panel Discussion: Careers in Trademark Law

May 2010

International Trademark Association Annual Meeting, Boston, MA

Roundtable Host, International Trademark Association Administrator and Paralegal Roundtable, "Proper Trademark Use,"

February 2009
Speaker, International Trademark Association What They Didn't Teach You in Law School About Trademark Law, International Trademark Association Annual Meeting, Dallas, TX, May 2013
Facilitator, International Trademark Association Working Lunch for Law Students, International Trademark Association Annual Meeting, Dallas, TX, May 2013
Organizer, International Trademark Association Career Development Day, International Trademark Association Annual Meeting, Dallas, TX, 2013
Facilitator, International Trademark Association Working Lunch for Law Students, International Trademark Association Annual Meeting, Washington, DC, May 2012
Professional Affiliations
European Communities Trade Mark Association (ECTA)
Intellectual Property Owners Association (IPO)
International Trademark Association (INTA)
Academic Committee, 2020-current
Young Practitioners Committee 2016-2019; Co-Chair of Programming Subcommittee 2018-2019
Academic Committee, 2008-2015; former Chair of the Student Membership Team
MARQUES - The Association of European Trade Mark Owners
Intellectual Asset Management Team 2019-present
American Bar Association, Intellectual Property Section
Connecticut Bar Association, Intellectual Property Section
New York State Bar Association
Community/Civic Involvement
Connecticut Audubon Society Center at Glastonbury, Board Member, 2014-2016