Professionals
Practice Areas
Admissions
Education
Antonin Scalia Law School at George Mason University, Latin Legum Magister (LL.M.) in Intellectual Property Law, 2019
University of Hamburg; Appellate Court Hamburg, Hamburg, Germany, German Juris Doctor (First State Examination) - Minor in European and International Law, 2012
Languages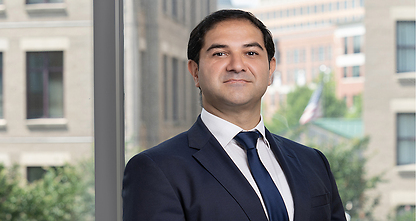 Farzad A. Panjshiri
Associate
Farzad Panjshiri is an experienced trademark and copyright attorney who fights passionately for the intellectual property rights of his clients. He has extensive experience in trademarks, copyrights, and other intellectual property rights, emphasized by his Master of Laws (LLM) degree in US Intellectual Property Law, his German Law degree, as well as his international and domestic legal experience.
Farzad concentrates his practice on all areas of trademark prosecution, enforcement, and litigation before the U.S. Patent and Trademark Office (USPTO) and practically all Intellectual Property Offices (IPOs) around the world with the help of a substantial network of foreign partners. He has been counseling individuals, small and midsize businesses, as well as large multinational companies on clearance and availability of marks; formation, maintenance, monitoring, and enforcement of marks; resolution of intellectual property disputes; and IP licensing and transactional matters. Farzad advises clients on copyright law, files copyright applications, and prosecutes applications with the U.S. Copyright Office.
He has been an active member of the International Trademark Association (INTA), American Intellectual Property Law Association (AIPLA), European Communities Trademark Association (ECTA), and Pharmaceutical Trade Marks Group (PTMG) for many years.
Outside work, Farzad likes to spend time with his wife and child, travel, play tennis and golf, try new foods, and explore new hiking spots.
Experience Highlights
Associate, Cantor Colburn LLP, 2023-present
Trademark and Copyright Associate, Dunlap Bennett & Ludwig, 2021-2023
Student Associate, Oblon, McClelland, Maier & Neustadt, L.L.P., 2018- 2019
Legal Counsel, Country Manager North America, SMD Group, LLC; Schutz Marken Dienst GmbH, 2014-2017
News
September 12, 2023

Cantor Colburn proudly announces the expansion of its legal team with the hiring of 11 new attorneys and patent agents.
Events
October 11, 2023

Alexandria, Virginia

Korean American Intellectual Property Bar Association (KAIPBA) presents the 2023 Korea-US IP Forum and PCT Roundtable on October 11, 2023, in Alexandria, Virginia. Cantor Colburn is a sponsor of the event, which features several distinguished speakers:

September 17, 2023
Professional Affiliations
Intellectual Property Owners Association (IPO)
International Trademark Association (INTA) 2015 – 2023
American Intellectual Property Law Association (AIPLA) 2016 - 2023
European Communities Trademark Association (ECTA) 2014 - 2017
Pharmaceutical Trade Marks Group (PTMG) 2015 - 2017