Professionals
Practice Areas
Admissions
District of Columbia
State of Connecticut
Federal Courts of Connecticut
Education
Harvard Law School, J.D., cum laude, 2005
University of Alabama, B.S., Economics, Minors in Mathematics and Computer Science, summa cum laude, 2002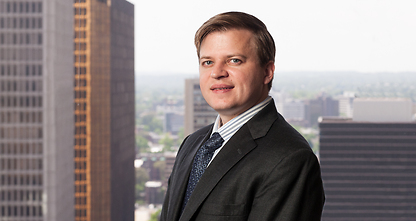 Nicholas A. Geiger
Counsel and Vice Chair, Pharmaceutical Litigation Practice
Nicholas Geiger has significant experience litigating patent and trademark infringement matters, as well as false advertising, false marking, trade secret and unfair trade practice matters. He has been involved in all aspects of litigation, including pre-suit investigations, initial pleadings, temporary restraining orders and preliminary injunctions, fact and expert discovery, summary judgment, jury and bench trials, and the negotiation and enforcement of settlement agreements. He has represented clients in a diverse array of industries, including pharmaceuticals, medical devices, petrochemicals, fashion manufacturing and retail, flexible packaging, and database software. He counsels clients in FDA matters. In particular, Nicholas has extensive experience managing complex matters and the devising and implementing of strategies to control the scope and cost of voluminous electronic discovery.
Experience Highlights
Counsel and Vice Chair, Pharmaceutical Litigation Practice, Cantor Colburn LLP, 2020-present
Counsel, Cantor Colburn LLP, 2016-2020
Associate, Cantor Colburn LLP, 2013-2015
Associate, Axinn, Veltrop & Harkrider, 2008-2013
Associate, Dechert LLP, 2005-2008
News
November 11, 2020

Cantor Colburn's Client Alert addresses the Federal Circuit's decision on establishing venue in Hatch-Waxman suits.

January 11, 2016

IP Law 360 published an article on January 11, 2016 about the Federal Circuit's ruling on January 8, 2016 to uphold a New Jersey district court's ruling in favor of Actavis Elizabeth LLC and other drugmakers finding that three of Purdue Pharmaceutical Products LP's patents for the sleep aid Intermezzo are invalid because they were obvious. Cantor Colburn's litigators represent Dr. Reddy's in the matter.
Events
March 4, 2020

Mumbai, India

April 29, 2019

New York City

April 18, 2019

Hartford, Connecticut

Cantor Colburn is proud to sponsor the Boys & Girls Club of Hartford's 2019 GREAT Futures Celebration on April 18, 2019 at the Connecticut Convention Center in Hartford, Connecticut.

October 1, 2018

Chicago, Illinois

The 6th Annual Paragraph IV Disputes Master Symposium will take place in Chicago on October 1-3, 2018. Cantor Colburn has a dedicated Pharmaceutical Practice Group comprised of experienced litigators, Ph.D. chemists, and patent attorneys. Litigators Steve Coyle and Nicholas Geiger will attend.

March 7, 2018

Mumbai, India

Cantor Colburn is pleased to sponsor the 7th Annual Pharma IPR Conference in Mumbai, India, on March 7-9. 2018. Cantor Colburn's Pharmaceutical IP Services Practice Group handles litigation, patent prosecution, inter partes reviews and other Patent Office review proceedings, opinions, landscapes, competitive intelligence, transactional services, portfolio management, biosimilar and interchangeable biological drugs, and more. Steve Coyle, who leads the Pharmaceutical Litigation Group, will speak on "ANDA filling and litigation: strategies to respond."

May 11, 2017

New Haven, Connecticut

Cantor Colburn is pleased to sponsor the Connecticut Intellectual Property Law Association's Judge's Dinner on May 11, 2017.

April 24, 2017

New York, New York

Cantor Colburn litigation partner Steve Coyle moderated the panel "The Ongoing Jurisdiction Debate: From Mylan to TC Heartland" at the Paragraph IV Disputes Conference in New York City, which the firm also sponsored. Cantor Colburn has a dedicated Pharmaceutical Practice Group comprised of experienced litigators, Ph.D. chemists, and patent attorneys.

May 13, 2015

New Haven, Connecticut

The IP Inn of Court for Connecticut was inaugurated on May 13, 2015. The Inn was inaugurated when Federal Circuit Judge Richard Linn presented District of Connecticut Judge Janet Bond Arterton with the charter of the Inn.

Cantor Colburn's Michael Cantor, Co-Managing Partner, and Nicholas Geiger, Litigation Associate, are officers of the IP Inn. Other Cantor Colburn attorneys who are charter members are Bud Bedingfield and Christopher Boehm.

April 22, 2015

Hartford, Connecticut
Professional Affiliations
American Bar Association, Litigation Section
Intellectual Property Owners Association
Connecticut Bar Association
Connecticut IP Inn of Court, Charter Member, Membership Committee Co-Chair