Professionals
Practice Areas
Technologies
Aerospace & Aeronautics
Artificial Intelligence
Automotive Technology
Computer and Systems Engineering
Computer Science & Software
Electrical Engineering & Electronics
Internet & E-Commerce
Medical Devices
Optics
Semiconductor Devices & Processing Methods
Telecommunications
Honors
New Leaders in the Law, November 2013, The Connecticut Law Tribune
Admissions
State of Connecticut, 2007
U.S. Patent and Trademark Office, 2004
Education
University of Connecticut School of Law, J.D. and Certificate in Intellectual Property, with honors, 2007
University of Connecticut School of Law CALI Award of Excellence for top class performance in Torts
Rensselaer Polytechnic Institute, M.E., Computer and Systems Engineering, 2002
RPI Founders Award of Excellence for Creativity and Leadership
Kettering University, B.S., Computer Engineering, 1999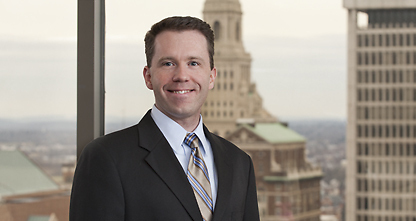 Eric J. Baron
Partner and Chair of the Artificial Intelligence Practice Group
Eric Baron represents clients on all aspects of patent application preparation, prosecution, and patent portfolio development. Eric's patent practice focuses on electrical and mechanical arts, particularly computer hardware and software, semiconductors, telecommunications, internet and e-commerce, artificial intelligence, business methods, electrical circuits, aerospace, medical, industrial, and automotive technologies. Eric has several years of in-house experience overseeing internal invention disclosure processing and outside counsel in domestic and foreign patent matters for a broad array of aerospace and industrial technologies. Prior to joining the firm, Eric was an engineer at Hamilton Sundstrand, a division of United Technologies Corporation, where he worked as a hardware systems engineer and a software engineer on engine controls, on-board diagnostics, flight controls, air management systems, and test systems for a variety of military and commercial aircraft.
Experience Highlights
Partner, Cantor Colburn LLP, 2018-present
Counsel, Cantor Colburn LLP, 2015-2017
Associate, Cantor Colburn LLP, 2012-2014
Secondment as Patent Process Management Attorney, Hamilton Sundstrand Corp., 2010-2012
Associate, Cantor Colburn LLP, 2007-2009
Patent Agent, Cantor Colburn LLP, 2006-2007
Engineer, Hamilton Sundstrand Corp., a division of United Technologies Corp., 1994-2006
News
May 25, 2023

The UConn School of Law presents a thought-provoking panel discussion on the rapid growth of artificial intelligence (AI), its ethical implications and its impact on society. Recently, the Future of Life Institute open letter, signed by Elon Musk and other influential figures, called for a pause on all AI experiments. Eric Baron, Partner and Chair of Cantor Colburn's Artificial Intelligence Practice Group and UConn Law '07, is on the panel of distinguished UConn alumni and faculty who will discuss this emerging and rapidly evolving technology.

March 16, 2023

On March 16, 2023, the United States Copyright Office (USCO) issued a Statement of Policy titled "Copyright Registration Guidance: Works Containing Material Generated by Artificial Intelligence," which clarifies the USCO's practices for examining and registering works that contain material generated using Artificial Intelligence technology. Cantor Colburn offers this Client Alert to examine the issues and what this means for you.

June 30, 2014

Cantor Colburn LLP is a returning silver sponsor for the 4th annual Sikorsky Home Run for Heroes fundraiser. The fundraiser is to benefit and honor Connecticut military veterans and their families.

www.ctinventionconvention.org

April 2, 2014

Michael Cantor gave the keynote speech when the Connecticut State Legislature hosted the Connecticut Invention Convention at the state Capitol. 170 student inventors from 14 schools, legislators, and Cantor Colburn Associate Eric Baron, a CIC board member, attended.

October 10, 2013

Cantor Colburn LLP has been recognized by 10 different organizations and publications- which heralded 14 attorneys in particular- for excellence in their work in 2013. The Legal 500 has applauded the firm for its "solid reputation in the market of providing an excellent level of service, and having an excellent value for money." From accolades for the firm as a whole to specific recognition of Cantor Colburn attorneys in diverse practice areas within the field of intellectual property, the firm has enjoyed an abundance of recognition in 2013.

The Connecticut Law Tribune

May 15, 2013

In support of the people of Boston after the tragedy at the Boston Marathon, Cantor Colburn's Hartford office participated in Wear Your Boston Day on April 19, 2013.
Events
May 25, 2023

UConn School of Law, Hartford, Connecticut

The UConn School of Law presents a thought-provoking panel discussion on the rapid growth of artificial intelligence (AI), its ethical implications and its impact on society. Recently, the Future of Life Institute open letter, signed by Elon Musk and other influential figures, called for a pause on all AI experiments. Eric Baron, Partner and Chair of Cantor Colburn's Artificial Intelligence Practice Group and UConn Law '07, is on the panel of distinguished UConn alumni and faculty who will discuss this emerging and rapidly evolving technology.

November 4, 2022

June 15, 2022

virtual

Cantor Colburn is pleased to sponsor the AIPLA 2022 Electronic and Computer Patent Law Virtual Summit on June 15-16, 2022.

October 16, 2021

June 10, 2021

April 26, 2021

During the Connecticut Invention Convention, more than 500 engineers, academics, scientists, entrepreneurs, and legal professionals will judge students' inventions and inspire young minds to pursue science and engineering studies and careers.

November 9, 2019

Fairfield, CT

Cantor Colburn partner Eric Baron will participate in a Connecticut Invention Convention (CIC) event, Push for Entrepreneurship on November 9th, 2019, where participants will have two hours to do as many push-ups as possible with unlimited breaks. The event will take place Saturday morning, November 9th at Fairfield University, John Barrone Campus Center. This event is open to anyone between the ages of 5 and 70 who believes innovation is the key to the future and loves challenges.

May 4, 2019

University of Connecticut, Storrs, CT

Several Cantor Colburn attorneys will be judges at the regional and statewide Connecticut Invention Convention (CIC), competitions, including Eric Baron, who is also a CIC board member. Michael Cantor will attend to represent the firm during the program, which will recognize Cantor Colburn's support. This year's convention will take place on May 4, 2019 at the UConn Storrs campus.

March 22, 2019

New York City

Cantor Colburn is proud to sponsor the New York Intellectual Property Law Association's 97th Annual Dinner in Honor of the Federal Judiciary on March 22, 2019. The firm is a longtime sponsor of the Judges' Dinner.

January 22, 2019

Middletown, Connecticut

The Connecticut Bar Association Young Lawyers Association is hosting the Pro Bono Hour, a short presentation style forum for organizations to share information with each other about their programs and volunteer opportunities with pro bono organizations, taking place on January 22, 2019 from 6:30 pm – 8:00 pm at Herd Restaurant in Middletown.

May 31, 2018

The Henry Ford Museum of American Innovation, Dearborn, MI

Cantor Colburn is proud to have been a returning sponsor of the The National Invention Convention and Entrepreneurship Expo (NICEE) May 31 - June 2, 2018, at the Henry Ford Museum in Dearborn, MI. Cantor Colburn sponsors the Most Patentable Award, and provides pro bono legal assistance to the winner, which includes a patent search, patent filing, and prosecution of a patent application.

Attorney Eric Baron is Vice President on the Board for The Connecticut Invention Convention and is a volunteer judge at the National competition.

April 28, 2018

UConn Storrs Campus, Connecticut

June 3, 2017

USPTO, Alexandria, Virginia

Cantor Colburn is proud to have been a returning sponsor of the The National Invention Convention and Entrepreneurship Expo (NICEE) on Saturday, June 3, 2017, at the U.S. Patent and Trademark Office. Cantor Colburn sponsored the Most Patentable Award, and provided pro bono legal assistance to the winner, which includes a patent search, patent filing, and prosecution of a patent application.

May 11, 2017

New Haven, Connecticut

Cantor Colburn is pleased to sponsor the Connecticut Intellectual Property Law Association's Judge's Dinner on May 11, 2017.

April 29, 2017

Storrs, Connecticut

Several Cantor Colburn attorneys were judges at the Connecticut Invention Convention (CIC), an award winning, internationally recognized, 501(c)(3) educational organization open to K-8 students statewide, and is designed to develop, encourage, and enhance critical thinking skills through invention, innovation and entrepreneurship.

May 20, 2016

Washington, D.C.

April 30, 2016

UConn, Storrs, Connecticut

Several Cantor Colburn attorneys will be judges at the Connecticut Invention Convention (CIC), an award winning, internationally recognized, 501(c)(3) educational organization open to K-8 students statewide, and is designed to develop, encourage, and enhance critical thinking skills through invention, innovation and entrepreneurship.

May 2, 2015

Gampel Pavilion, UConn Storrs Campus

Several Cantor Colburn attorneys will be judges at the Connecticut Invention Convention (CIC), including Counsel Eric Baron, who is also a CIC board member.

The annual convention gives students and parents an introduction to careers in engineering with exhibits staffed by UConn's students and professors which showcase engineering subjects, including civil, mechanical and chemical engineering – helping students discover engineering and science as real possible careers, definitely within reach.

May 3, 2014

UConn Campus, Storrs, Connecticut

On Saturday, May 3, 2014 at UConn's Storrs Campus, more than 600 young inventors will come together for the 30th annual state-wide Connecticut Invention Convention hosted by UConn's School of Engineering. Several Cantor Colburn attorneys are volunteer judges at the event.

The 92nd Annual Dinner in Honor of the Federal Judiciary

March 28, 2014

New York, New York

Business Strategies in Digital Rights Management

May 2007

World Intellectual Property Organization (WIPO), Geneva, Switzerland
Professional Affiliations
American Bar Association
Intellectual Property Owners Association
Order of the Engineer
New York Intellectual Property Law Association
Connecticut Intellectual Property Law Association
Community/Civic Involvement
Board Member, Connecticut Invention Convention, 2013-present
President, 2019-2023
Vice President, 2018-2019
Chair of Governance Committee