Professionals
Practice Areas
Honors
Martindale-Hubbell BV Rated
Admissions
U.S. District Court, Southern District of New York, 2008
U.S. Court of Appeals for the Federal Circuit, 2006
U.S. District Court, Eastern District of Michigan, 2002
U.S. District Court, Central and Northern Districts of Illinois, 2002
U.S. Court of Appeals for the Ninth Circuit, 2000
U.S. District Court, District of Connecticut, 1999
State of Connecticut, 1999
U.S. Court of Appeals for the First Circuit, 1991
State of New York, 1991
U.S. Patent and Trademark Office, 1990
U.S. District Court, District of Massachusetts, 1990
Commonwealth of Massachusetts, 1990
Education
Syracuse University College of Law, J.D., 1990
University of Minnesota, B.A., Biology, 1985
Teaching Positions
Adjunct Professor, Western New England University School of Law, Copyright Law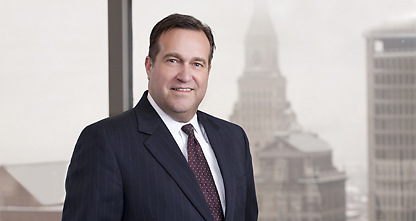 Michael J. Rye
Partner and Co-Chair of the Litigation Practice
Michael Rye is a trial lawyer of more than 20 years' experience whose varied intellectual property litigation practice runs the gamut of litigation from injunction hearings through appeal for domestic and international clients in a wide variety of industries, which often involve complex technologies. Mike's client-oriented case management style is practical and productive. His command of the legal process involves understanding the written rules and procedures as well as the unwritten rules. He has a proven ability to solve complex legal problems through strategic planning and preparation. Mike's practice emphasizes patent litigation, but often involves trademark, trade dress, copyright, trade secrets, unfair competition, false advertising, licensing, and other related commercial and business litigation. Mike has acted as lead litigation counsel in courts throughout the United States, including multi-district litigation and numerous Federal District courts. He co-chairs Cantor Colburn's Litigation Practice Group.
Experience Highlights
Partner, Cantor Colburn LLP, 2002-present
Associate, Cantor Colburn LLP, 1997-2002
Associate, Doherty, Wallace, Pillsbury & Murphy, PC, Springfield, MA, 1990-1997
Representative Matters
OFS Fitel LLC et al (Dist. CT) Represented a leading manufacturer of optical fibre in a complex patent infringement suit involving more than ten patents. After considerable discovery, we were able to negotiate a substantial settlement.
FARO v. Brainlabs (Dist. CT) Represented inventor of surgical digital positioning devices. Negotiated successful licensing program with Brainlabs and other industry leaders after discovery conducted.
Siemon Company v. Krone, Inc. (Dist. CT) Represented a telecommunications connector manufacturer in the successful prosecution of a patent infringement lawsuit related to suppression of electrical cross-talk in connectors. Mike obtained summary judgment of infringement resulting in a favorable settlement.
Imonex v. Greenwald Industries (E.D. TX) Represented a manufacturer of coin sorters in patent infringement defense in Eastern District of Texas with alleged multi-million dollar damages, resulting in dismissal of case and license of accused patents with nominal payment.
Aearo Company and Cabot Safety Intermediate Corporation v. Apothecary Products, Inc. (S. D. IN) Represented trade dress owner of "pillow pack" packaging in infringement litigation and defense of cancellation action based upon alleged functionality of mark. We ultimately obtained a favorable license and dismissal of the cancellation action.
Kaman Music Corporation v. Gibson Guitar Corporation (Dist. CT) Represented plaintiff in preliminary injunction motion and litigation asserting trademark infringement for defendant's use of the "LP" mark. The case resulted in an agreement to discontinue the offending use.
Thomas & Betts Corp. v. Siemon Company (W.D. TN) Represented a telecommunications connector manufacturer in the successful defense of a patent infringement lawsuit relating to printed circuit board designs with asserted damages in the millions of dollars. Our aggressive invalidity defense resulted in license of accused patents with nominal payment.
B.A.S. Industries, LLC v. Indian Industries, Inc., (Dist. CT) Represented a distributor of table tennis equipment in litigation against the owner of the registered trademark "ping pong". We filed a cancellation action based upon the asserted generic status of the mark. The case resulted in a favorable settlement for our client.
News
August 17, 2023

IPLS Proceedings

January 19, 2023

Michael J. Rye & Katherine Tassmer's article, "AI and Copyright Protection: Brain versus Bots," appears in IPLS Proceedings, a publication of the Michigan Bar's IP Section.

Law360

June 2014

Law360 quoted Cantor Colburn's Michael J. Rye on the U.S. Supreme Court's induced infringement ruling from in Limelight Networks Inc. v. Akamai Technologies Inc.

Corporate Counsel

October 2013

Cantor Colburn was nationally ranked for patent litigation by Corporate Counsel magazine in its October 2013 issue. Cantor Colburn's dedicated team of litigation attorneys have decades of experience in presenting technically complex matters for trial in front of judges and juries. A partner participates in every facet of the case, bringing results that count for the client. And at each phase of the litigation, Cantor Colburn seeks practical strategies to achieve a prompt, efficient resolution of the dispute.

Corporate Counsel

October 1, 2012

Corporate Counsel

June 1, 2012

Corporate Counsel magazine

October 3, 2011

The Connecticut Law Tribune

March 29, 2010

GC New England

March 24, 2008
Events
September 30, 2021

Seoul, South Korea and virtual

Litigation partner Michael Rye is a speaker at the 28th International Association of Korean Lawyers Conference as part of a panel discussion, Why are Korean companies suing in the US? on September 30, 2021.

April 18, 2019

Hartford, Connecticut

Cantor Colburn is proud to sponsor the Boys & Girls Club of Hartford's 2019 GREAT Futures Celebration on April 18, 2019 at the Connecticut Convention Center in Hartford, Connecticut.

May 11, 2017

New Haven, Connecticut

Cantor Colburn is pleased to sponsor the Connecticut Intellectual Property Law Association's Judge's Dinner on May 11, 2017.

Patent Litigation Roundtable

2008

GC New England, Q1
Professional Affiliations
American Bar Association
Member, Intellectual Property Section
Member, Litigation Section
American Intellectual Property Lawyers Association
Connecticut Intellectual Property Lawyers Association, Past President
Hampden County Bar Association
Intellectual Property Owners Association
Massachusetts Bar Association