Professionals
Practice Areas
Technologies
Biotechnology
Chemistry
Food Science
Pharmaceuticals & Pharmaceutical Formulation
Honors
IP Star, Managing IP, 2022-2023
Admissions
State of New York, 2008
State of Connecticut, 2005
U.S. Patent and Trademark Office, 1999
Education
University of Connecticut School of Law, J.D., with honors, 2005
Yale University, Ph.D., Biophysical Chemistry, 1995
Yale University, M.S., Chemistry, 1994
University of Illinois, Urbana-Champaign, B.S., Chemistry, 1988
University of Illinois, Urbana-Champaign, B.A., Biology, with honors, 1988
Teaching Positions
Adjunct Professor of Patent Law, University of Connecticut School of Law, 2020 - present
Adjunct Professor of Chemistry, Quinnipiac University, 1997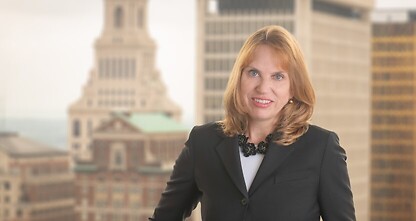 Leslie-Anne Maxwell, Ph.D.
Partner and Chair of the Pharmaceutical Patent Practice
Leslie-Anne Maxwell provides all aspects of patent representation to clients working in chemical and life science research with a particular emphasis on the pharmaceutical and agricultural chemical industries, and Chairs the firm's Pharmaceutical Patent Practice. Anne has 20+ years' experience drafting patent applications and prosecuting U.S. and non-U.S. patent applications in the areas of small molecule pharmaceuticals, drug delivery and formulations, biological therapeutics, chemical processes, medical diagnostics, biomaterials, and agricultural chemicals. Anne performs searches, determines patentability and freedom to operate, drafts and prosecutes patent applications, counsels clients in their development of effective patent protection worldwide, and assists clients with licensing and due diligence. Anne also prepares invalidity and non-infringement opinions and supports Cantor Colburn's Litigation Department in Abbreviated New Drug Application litigation. Prior to joining Cantor Colburn, Anne worked as a patent agent and chemist at a biotechnology company.
Experience Highlights
Partner, Cantor Colburn LLP, 2014-present
Counsel, Cantor Colburn LLP, 2012-2013
Associate, Cantor Colburn LLP, 2005-2011
Patent Agent, Cantor Colburn LLP, 2003-2005
Patent Agent, Neurogen Corporation, Branford, CT, 1998-2003
Postdoctoral Fellow, Neurogen Corporation, Branford, CT 1995-1998
News
The Patent Lawyer

August 1, 2023

February 19, 2023

AUTM's Annual Meeting is on February 19-21, 2023, in Austin. Cantor Colburn's team at the meeting is Anne Maxwell, Bryan Zerhusen, Samantha Page, Charlie O'Brien and Nicholas Herrel.

June 20, 2022

April 7, 2022

Cantor Colburn's Women's Initiative hosted the Hartford Area AIPLA Women in IP Global Networking Event on April 7, 2022 at Parkville Market in Hartford.

June 15, 2017

Cantor Colburn partner Grant M. Ehrlich, Ph.D. has been elected the 72nd president of the Connecticut Intellectual Property Law Association (CIPLA). Joining him on the executive committee as the 2017-2018 program chair is fellow partner Leslie-Anne Maxwell, Ph.D.

The Connecticut Law Tribune

April 20, 2015

Anne Maxwell, Andrew Ryan, Steve Coyle, Christopher Potts, and Derek Denhart co-wrote the article "Will Biosimilar Applicants Opt Out of Patent Dance? Federal Court Ruling to Have Impact on Future Litigation Strategies," published by the Connecticut Law Tribune on April 20, 2015.

Law360

March 24, 2015

October 20, 2014

Cantor Colburn Partner Anne Maxwell co-authored the article "Purple Book Launches New Chapter in Generic Drugs" that was published in the October 23, 2014 Connecticut Law Tribune.

Connecticut Law Tribune

April 27, 2014

Leslie-Anne Maxwell, Ph.D., Partner and Pharmaceutical Group Co-Chair, wrote "Diagnostic Method Patents in Doubt" for the April 27, 2014 Connecticut Law Tribune regarding recent guidance from the U.S. Patent and Trademark Office in view of the U.S. Supreme Court decisions in Assoc. for Molecular Pathology v. Myriad Genetics and Mayo Collaborative Services v. Prometheus Laboratories, Inc.
Events
December 11, 2023

BioCT's 10th Annual Holiday Party is on December 11 in New Haven. BioCT supports the needs and serves as the unified voice of the bioscience community in our state.

August 2, 2023

June 15, 2023

Boston

The 2023 Northeast Regional Meeting of the American Chemical Society (NERM 2023) will be organized by NESACS and will be hosted at Northeastern University in Boston. An all-star panel from Cantor Colburn LLP will discuss patent protection for innovative products or processes, which excludes others from making and selling the same products or using the same processes, can be critical to the profitability of tech companies. Cantor Colburn is proud to sponsor this meeting.

June 5, 2023

Boston

The BIO International Convention 2023 is in Boston, June 5-8, 2023. Thousands of biotechnology and pharma leaders will come together for intensive networking to discover new opportunities and partnerships. Cantor Colburn partners Anne Maxwell, Ph.D. and Todd Garabedian, Ph.D. will attend.

April 17, 2023

New Haven, Connecticut

The Connecticut Intellectual Property Law Association (CIPLA) is hosting a discussion of Jack Daniel's Properties, Inc. v. VIP Products LLC, led by Susan Kohlmann, Partner at Jenner & Block on April 17, 2023 at the Elm City Club in New Haven, Connecticut.

February 19, 2023

Austin, Texas

AUTM's Annual Meeting is the largest gathering of technology transfer professionals. This annual, international meeting is a chance to connect, and gain insights from world-class speakers and panels from more than 90 educational sessions. The 2023 meeting will be held on February 19-22, 2023 in Austin, Texas.

July 27, 2022

Boston

June 11, 2022

Hartford, Connecticut

UConn Law celebrate its past, present, and future at its Centennial Gala on June 11, 2022 in Hartford. The Gala is a culmination of centennial celebration events, at which the important work alumni have done thought the state, country and world will be recognized.

May 17, 2022

New Haven, Connecticut

April 7, 2022

Hartford, Connecticut

Cantor Colburn is pleased to host the AIPLA's Women in IP Law Virtual Global Networking event on April 7, 2022. The event, Power Happy Hour: Finding Balance, Building Community, will feature a short discussion around the important issue for women of feeling empowered and engaging in community.

October 14, 2021

virtual conference

March 4, 2020

Mumbai, India

December 4, 2019

Boston

Leslie-Anne Maxwell, Partner and Chair of Cantor Colburn's Pharmaceutical Patent Practice will attend the 2019 New England Venture Summit on December 4th, 2019 in Boston.

September 19, 2019

Branford, Connecticut

July 25, 2019

Boston

June 3, 2019

Philadelphia

The BIO International Convention 2019 is in Philadelphia on June 3-6, 2019. More than 16,000 biotechnology and pharma leaders will come together for intensive networking to discover new opportunities and partnerships among a wide spectrum of life science and application areas, including drug discovery, biomanufacturing, genomics, biofuels, nanotechnology and cell therapy.

March 6, 2019

Mumbai

September 12, 2018

New York City

Pharmaceutical Practice Group Co-Chair and partner Anne Maxwell, Ph.D. will attend the Managing IP Life Sciences Forum on September 12, 2018 in New York City. The conference brings together industry leaders, inhouse and outside counsel, and members of the judiciary to discuss the latest decisions and significant changes affecting the life sciences industry today.

June 4, 2018

Boston, Massachusetts

The 2018 BIO International Convention will take place on June 4-7, 2018, in Boston, Massachusetts. Cantor Colburn attorneys Todd Garabedian, Ph.D. and Anne Maxwell, Ph.D. will attend the 25th annual event. More than 16,500 life sciences professionals will flock to Boston for the convention.

March 7, 2018

Mumbai, India

Cantor Colburn is pleased to sponsor the 7th Annual Pharma IPR Conference in Mumbai, India, on March 7-9. 2018. Cantor Colburn's Pharmaceutical IP Services Practice Group handles litigation, patent prosecution, inter partes reviews and other Patent Office review proceedings, opinions, landscapes, competitive intelligence, transactional services, portfolio management, biosimilar and interchangeable biological drugs, and more. Steve Coyle, who leads the Pharmaceutical Litigation Group, will speak on "ANDA filling and litigation: strategies to respond."

January 31, 2018

New Haven, Connecticut

The Connecticut Intellectual Property Law Association (CIPLA) presents the workshop, "How IP Motivates Investors and Helps Price Drugs" on Wednesday, January 31, 2018 at the Graduate Club in New Haven, which includes a pre-event workshop for investors, entrepreneurs and attorneys.

November 2, 2017

Philadelphia, Pennsylvania

The Summit on IP Due Diligence: Comprehensive and Practical Tips for Pharmaceutical, Biotechnology, and Medical Device Professionals will take place on November 2-3, 2017, in Philadelphia, Pennsylvania.

October 25, 2017

The Jackson Laboratory for Genomic Medicine (Farmington, Connecticut)

Cantor Colburn is proud to sponsor The 4th Annual Forum on Healthcare Innovation presented by The Jackson Laboratory for Genomic Medicine on October 25-26. 2017, at the Jackson Laboratory's Farmington, Connecticut headquarters. The Forum will focus on emerging science and technology that will change the future of healthcare, and innovations in healthcare.

May 11, 2017

New Haven, Connecticut

Cantor Colburn is pleased to sponsor the Connecticut Intellectual Property Law Association's Judge's Dinner on May 11, 2017.

April 27, 2017

New Haven, Connecticut

Stem Conn is Connecticut's largest scientific conference, with 500 participants from academia, industry, and government. The 2017 event took place on April 27 at the Omni in New Haven.

April 25, 2017

Anlyan Center, Yale University, New Haven, Connecticut

Cantor Colburn is pleased to sponsor a CURE BioHaven event, "The Biopharmaceutical Industry's Challenges in Drug Pricing" with Dr. John LaMattina, about drug pricing transparency.

Cantor Colburn is a member of CURE, Connecticut's bioscience network. Dr. John LaMattina is currently a Senior Partner at PureTech Health, and is the former Senior Vice President of Pfizer Inc. and former President of Pfizer Global Research and Development.

April 24, 2017

New York, New York

Cantor Colburn litigation partner Steve Coyle moderated the panel "The Ongoing Jurisdiction Debate: From Mylan to TC Heartland" at the Paragraph IV Disputes Conference in New York City, which the firm also sponsored. Cantor Colburn has a dedicated Pharmaceutical Practice Group comprised of experienced litigators, Ph.D. chemists, and patent attorneys.

April 22, 2017

Hartford, Connecticut

December 7, 2016

Morristown, New Jersey

October 26, 2016

Farmington, Connecticut

The 2016 Forum on Healthcare Innovation was presented by The Jackson Laboratory in collaboration with the Connecticut Health Council. The Forum focused on two specific topics: coverage decisions for biomedical innovation and emerging science and technology that will change the future of healthcare.

June 6, 2016

San Francisco, California

November 10, 2015

Hartford, Connecticut

Cantor Colburn is proud to sponsor the Innovation Summit, presented by the Connecticut Technology Council.

June 1, 2015

New York City

Partner Leslie-Anne Maxwell will present a session at the American Conference Institute's 6th Annual Summit on Biosimilars, a forum on the legal, regulatory, patent, and commercial realities of follow-on biologics, June 1-3, 2015, in New York City. Maxwell, who holds a PhD in chemistry from Yale University as well as a legal degree, co-chairs the firm's Pharmaceutical Practice Group.

April 25, 2015

Hartford, Connecticut

Cantor Colburn is proud to be a returning sponsor of the UConn Health White Coat Gala.

October 23, 2014

North Haven, Connecticut

Cantor Colburn partners Anne Maxwell, Ph.D., Esq. and Christopher Boehm, Esq. will present "Understanding and Valuing Intellectual Property" to the Connecticut Chapter of the National Association of Certified Valuation Analysts on Thursday, October 23rd at the New Haven Realtors Association in North Haven, Connecticut.

April 23, 2014

New York, New York

Cantor Colburn partner Anne Maxwell, Ph.D. will speak on Patent Invalidity Due to the On Sale Bar - Hamilton Beach Brands, Inc. v. Sunbeam Products, Inc. during the 30th annual Joint Patent Practice Continuing Legal Education on April 23, 2014 in New York, New York.

The Keynote Speaker will be Hon. Alan D. Lourie of the U.S. Court of Appeals, Federal Circuit. Key government officials from the USPTO and FTC have been invited to join the program to discuss the latest developments in IP law. These include Drew Hirshfeld, USPTO Deputy Commissioner for Patent Examination Policy; Markus Meier, FTC Assistant Director; Janet Gongola, USPTO Patent Reform Coordinator and Associate Commissioner for Patent Examination Policy; Nathan Kelley, USPTO Solicitor and Deputy General Counsel for IP; and Hon. Thomas Giannetti, USPTO Lead Administrative Patent Judge, Patent & Trial Board.

March 25, 2014

Yale School of Medicine, New Haven, Connecticut

Cantor Colburn partner Anne Maxwell, Ph.D., joins a panel discussion of the Association for Molecular Pathology v. Myriad Genetics decision and its impact on entrepreneurship In diagnostics and customized medicines at the Yale School of Medicine in New Haven on Tuesday, March 25, from 4-6 PM. This BioHaven seminar has convened a panel of experts from various sectors of the biotech and pharmaceutical industry to discuss the business implications of cases such as Myriad.

February 5, 2014

Ahmedabad, India

Cantor Colburn is sponsoring two intellectual property (IP) symposia in Mumbai and Ahmedabad, India on Strategies for Managing Pharma, Biotech & Chemical Patent Portfolios attended by research and development scientists and IP professionals from India, presented by the Institute of Intellectual Property Research & Development. Co-Managing Partner Michael Cantor and Pharmaceutical Litigation Practice Group Chair Steve Coyle will lead a team to make presentations on strategic generic pharmaceutical patent portfolio issues.

February 3, 2014

Mumbai, India

Cantor Colburn is sponsoring two intellectual property (IP) symposia in Mumbai and Ahmedabad, India on Strategies for Managing Pharma, Biotech & Chemical Patent Portfolios attended by research and development scientists and IP professionals from India, presented by the Institute of Intellectual Property Research & Development. Co-Managing Partner Michael Cantor and Pharmaceutical Litigation Practice Group Chair Steve Coyle will lead a team to make presentations on strategic generic pharmaceutical patent portfolio issues.

November 7, 2013

Wallingford, Connecticut

Cantor Colburn is a platinum sponsor of the Connecticut Innovation Summit, a day-long program for executives, entrepreneurs, rising technology leaders, and investors to come together to share ideas and promote innovation. The program includes mentor meetings, a funding fair, a sales pitch competition, a poster expo, and an awards ceremony.

Strategies for Managing Pharmaceutical, Biotechnology & Chemical Patent Portfolios for Business Development and Licensing Professionals

March 6, 2013

Mumbai, India

Presenters: Steven Coyle, Anne Maxwell, Ph.D., David Rodrigues, Ph.D.

Strategies for Managing Pharmaceutical, Biotechnology & Chemical Patent Portfolios for R&D Scientists & IP Professionals

March 5, 2013

Mumbai, India

Presenters: Steven Coyle, Anne Maxwell, Ph.D., David Rodrigues, Ph.D.

25th Annual JPPCLE Conference

May 1, 2009

New York, New York

Merck v. Integra, Scope of the Research Exception

May 2006

22nd Annual JPPCLE, Abstracts
Professional Affiliations
Alpha Chi Sigma
Connecticut Intellectual Property Law Association
President, 2022-2023
Program Chair, 2017-2018
Intellectual Property Owners Association (IPO)
Pharmaceutical & Biotechnology Issues Committee, 2023