Professionals
Practice Areas
Technologies
Aerospace & Aeronautics
Automotive Technology
Environmental Engineering
Mechanical Engineering
Honors
Top 100 Most Active Patent Attorneys 2023, Patexia
Admissions
Commonwealth of Virginia (pending)

U.S. Patent and Trademark Office, 2002

State of Connecticut, 2000
Education
Pace University School of Law, J.D., 1999
Rutgers University College of Engineering, B.S., Civil and Environmental Engineering, 1996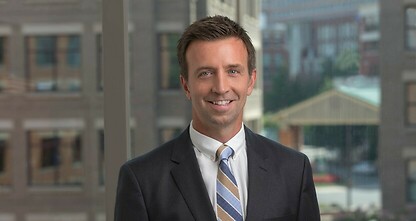 Daniel F. Drexler
Partner, Chair of International Practice, Co-Chair of Design Practice
Daniel Drexler focuses his practice on assisting clients in protecting their inventions in both U.S. and foreign patent offices in a variety of technical fields, including mechanical engineering, aerospace and aeronautics, automotive technology, and environmental engineering. He has an extensive foreign practice and counsels international companies and law firms in regard to U.S. strategy. He co-chairs the Design Patent Practice Group.
Experience Highlights
Partner, Cantor Colburn LLP, 2006-present
Associate, Cantor Colburn LLP, 2000-2006
Law Clerk, Cantor Colburn LLP, 1999-2000
News
November 1, 2023

Cantor Colburn earns top rankings in the Patexia 2023 Patent Prosecution Intelligence Report: Cantor Colburn is the #4 Most Active Law Firm and the #51 Best Performing Law Firm in Bio-Tech. James Merrick is in the Top 50 for Most Active in U.S. Patent Prosecution, Daniel Lent and Daniel Drexler are in the Top 100 Most Active Patent Prosecution Attorneys, and Brad Lawrence and Jay Jang, Ph.D. are in the Top 250 Most Active Patent Prosecution Attorneys.

September 10, 2022

December 22, 2020

As the deadline for Brexit approaches, it seems unlikely that a further trade deal between the United Kingdom and the European Union will occur. Therefore, existing guidance on United Kingdom and European trademark and design rights continues unchanged and is summarized in this Cantor Colburn Client Alert.

June 17, 2020

October 10, 2013

Cantor Colburn LLP has been recognized by 10 different organizations and publications- which heralded 14 attorneys in particular- for excellence in their work in 2013. The Legal 500 has applauded the firm for its "solid reputation in the market of providing an excellent level of service, and having an excellent value for money." From accolades for the firm as a whole to specific recognition of Cantor Colburn attorneys in diverse practice areas within the field of intellectual property, the firm has enjoyed an abundance of recognition in 2013.
Events
May 16, 2023

Singapore

Michael Cantor, Phil Colburn, Michelle Ciotola and Dan Drexler will be joining trademark, brand professionals, and intellectual professionals from around the world at the annual meeting of the International Trademark Association (INTA) in Singapore in May 2023.

September 10, 2022

San Francisco

The AIPPI World Congress 2022 takes place September 10-13, 2022 in San Francisco, California.

April 30, 2022

Washington, D.C.

INTA's Annual Meeting Live+ is in-person and virtual. Taking place over April 30–May 4, 2022 in Washington, D.C., the annual conference of the International Trademark Association brings together the most influential brand and intellectual property professionals from across the globe and across industries.

April 21, 2022

Virtual

The 15th Annual Design Day will take place virtually this year on Thursday, April 21, 2022 from 1:00p.m.-4:30p.m. ET, followed by a networking opportunity. The USPTO program, co-sponsored by IPO, will cover various aspects of design patents and offer insights from USPTO design examiners and managers, design patent practitioners, and industrial designers.

June 17, 2020

Webinar

May 18, 2019

Boston, Massachusetts

April 25, 2019

U.S. Patent and Trademark Office, Alexandria Virginia

Members of Cantor Colburn's Design Patents Practice Group will attend USPTO Design Day on April 25, 2019 in Alexandria, VA. Cantor Colburn is the #3 largest filer of design patents in the country and several of our attorneys attend Design Day every year. Partner Jenae Gureff gave the presentation, "Report from the Front Line: PTAB Decisions."

April 8, 2019

May 19, 2018

Seattle, Washington

The 140th annual meeting of the International Trademark Association (INTA) will take place in Seattle, Washington from May 19-23, 2018. Nearly 10,000 intellectual property professionals from around the world will attend, including a large delegation from Cantor Colburn.

April 25, 2018

Alexandria, VA

Members of Cantor Colburn's Design Patents Practice Group will attend USPTO Design Day on April 25, 2018 in Alexandria, VA. Cantor Colburn is the #3 largest filer of design patents in the country and several of our attorneys attend Design Day every year. Design Practice Co-Chair Dan Drexler will be a panelist at the event.

March 23, 2018

New York City

Cantor Colburn is proud to sponsor the New York Intellectual Property Law Association's 96th Annual Dinner in Honor of the Federal Judiciary on March 23, 2018. The firm is a longtime sponsor of the Judges' Dinner.

November 7, 2017

Washington, D.C.

The 2017 INTA (International Trademark Association) Leadership Meeting, November 7-10, 2017 in Washington, D.C., brings together INTA volunteer leaders once a year to advance the Association's objectives and goals. It offers them an advanced-level educational program and the opportunity to conduct business and network with colleagues from around the world.

May 20, 2017

Barcelona, Spain

The 139th annual meeting of the International Trademark Association (INTA) took place in Barcelona, Spain from May 20-24, 2017 and was attended by more than 9,500 trademark professionals including a large delegation from Cantor Colburn.

April 25, 2017

Alexandria, Virginia

USPTO Design Day took place on Tuesday, April 25 at the U.S. Patent and Trademark Office (USPTO) in Alexandria, Virginia. Cantor Colburn is one of the largest filers of design patents in the country and our attorneys attend Design Day every year.

October 27, 2016

Shenzhen, China

Cantor Colburn is proud to sponsor the China Intellectual Property and Innovation Summit in Shenzhen, China, October 27-28, 2016.

International Trademark Association (INTA) Annual Meeting

May 21, 2016

Orlando, Florida

April 19, 2016

Alexandria, Virginia

This year is the 10th Anniversary of the USPTO Design Day. Design Day is on April 19 and takes place at the PTO. The free seminar is attended by United States Patent and Trademark Office Design Examiners, Managers, Design Patent Practitioners and Industrial Designers from across the country.

May 2, 2015

San Diego, California

The 137th annual meeting of the International Trademark Association (INTA) takes place in San Diego, California and will be attended by more than 9,500 trademark professionals including a large delegation from Cantor Colburn.

USPTO Design Day

April 14, 2015

Alexandria, Virginia

December 9, 2014

Washington, D.C.

Cantor Colburn is proud to sponsor the 2014 IPO Education Foundation Awards Dinner.

International Trademark Association (INTA) 136th Annual Meeting 2014

May 10, 2014

Hong Kong, China

April 8, 2014

Alexandria, Virginia

USPTO offers its annual Design Day.

AIPLA Annual Meeting

October 24, 2013

Washington, D.C.

INTA 135th Annual Meeting

May 4, 2013

Dallas, Texas

USPTO Design Day

April 23, 2013

Alexandria, Virginia

International Trademark Association (INTA) Annual Meeting 2012

May 5, 2012

Washington, D.C.

International Trademark Association (INTA) Annual Meeting

May 14, 2011

San Francisco, California

Power of Attorney Waivers Under the PCT: Practical and Ethical Considerations

2005

Joint Patent Practice CLE Symposium, New York City

The Intersection of Human Rights, International Pharmaceutical Markets, and Intellectual Property

2001

University of Connecticut School of Law Symposium
Professional Affiliations
American Intellectual Property Law Association, Member
Connecticut Intellectual Property Law Association, Board of Governors, Past-President
Giles S. Rich American Inn of Court, Barrister
Intellectual Property Owners Association (IPO)
International Patent Law & Trade Committee
International Association for the Protection of Intellectual Property, Member