Professionals
Practice Areas
Technologies
Aerospace & Aeronautics
Biotechnology
Energy
Mechanical Engineering
Medical Devices
Optics
Admissions
U.S. District Court for the District of Columbia, 2011
U.S. Court of Appeals for the Federal Circuit, 2010
U.S. Court of Appeals for the District of Columbia, 2010
U.S. Patent and Trademark Office, 2006
District of Columbia, 2005
Commonwealth of Pennsylvania, 2004
U.S. District Court of New Jersey, 2004
State of New Jersey, 2004
Education
University of New Hampshire School of Law, (formerly known as Franklin Pierce Law Center), J.D., 2003
University of New Hampshire School of Law, (formerly known as Franklin Pierce Law Center), Masters in Intellectual Property, 2003
Tulane University, B.S., Biomedical Engineering, 2000
Teaching Positions
University of New Hampshire School of Law (formerly known as Franklin Pierce Law Center), Concord, NH 2002-2003 IP Moot Court Teaching Assistant
University of New Hampshire School of Law (formerly known as Franklin Pierce Law Center), Concord, NH 2002 Introduction to Intellectual Property Teaching Assistant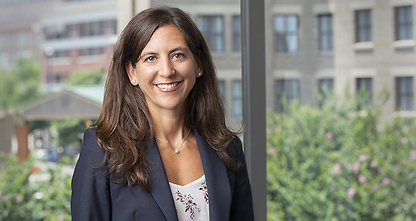 Jenae C. Gureff
Partner in Charge of the Washington, D.C. Office
Jenae Gureff focuses her practice on the preparation and prosecution of patent applications related to medical devices and mechanical technologies, serving both foreign and domestic companies. Jenae has considerable experience in preparing and prosecuting utility and design patent applications in the mechanical and biomedical arts, particularly medical devices and prosthetics, surgical methods and techniques, eyewear, robotic surgical systems, door technology systems, remote control devices, image detection units, aircraft systems, and agricultural delivery devices. Jenae also handles opinion work related to the foregoing technologies. She is an active member of the American Intellectual Property Law Association, and is the current Chair of the Mentoring Committee, having recently served as Vice Chair.
Experience Highlights
Partner, Cantor Colburn LLP, 2018-present
Counsel, Cantor Colburn LLP, 2016-2017
Associate, Cantor Colburn LLP, 2011-2015
Associate, Roylance, Abrams, Berdo & Goodman LLP, Washington, DC, 2005-2011
Attorney, Pepper Hamilton LLP, Philadelphia, PA, 2004-2005
Associate, RatnerPrestia PC, Valley Forge, PA, 2003-2004
News
April 7, 2022

Cantor Colburn's Women's Initiative hosted the Hartford Area AIPLA Women in IP Global Networking Event on April 7, 2022 at Parkville Market in Hartford.

May 6, 2020

Jenae Gureff co-hosted a networking event during the AIPLA Spring Meeting on May 4, 2020 - this year conducted virtually for the first time.
Events
May 4, 2023

The 16th Annual USPTO Design Day is on May 4, 2023. Partner and experienced design patent attorney Jenae Gureff will attend the event, which offers a day of lively and thought-provoking discussion about various aspects of design patents, hosted at the USPTO, which will feature insights from design managers, design patent practitioners, and industrial designers.

December 7, 2022

Washington, D.C.

November 3, 2022

virtual

The American Intellectual Property Law Association (AIPLA) presents the 2022 Design Rights Boot Camp in a virtual format taking place in November 2022. Cantor Colburn Partner and design patent attorney Jenae Gureff is moderating a panel on International Design Rights and the Hague on November 9, 2022. The Firm's Design Patent Practice Group is ranked #4 in the U.S., and our team has drafted successful patents for a diverse group of products and technologies ranging from automotive to chewing gum and candy.

October 27, 2022

Greater Washington, D.C.

May 17, 2022

New Orleans

Jenae Gureff, Partner in Charge of the Washington, D.C. Office at Cantor Colburn and Chair, of the AIPLA Membership Committee will attend the AIPLA Spring Meeting 2022 in New Orleans, May 17-19, 2022.

April 21, 2022

Virtual

The 15th Annual Design Day will take place virtually this year on Thursday, April 21, 2022 from 1:00p.m.-4:30p.m. ET, followed by a networking opportunity. The USPTO program, co-sponsored by IPO, will cover various aspects of design patents and offer insights from USPTO design examiners and managers, design patent practitioners, and industrial designers.

October 28, 2021

National Harbor, Washington, D.C. and virtual

May 10, 2021

virtual

The American Intellectual Property Law Association (AIPLA) is bringing together a diverse, global community of law firms, companies, and institutions involved in the practice of patent, trademark, copyright, trade secret, and other unfair competition laws at AIPLA's 2021 Virtual Spring Meeting. Scheduled from Monday, May 10 to Friday, May 14, the Spring Meeting has topics of interest to a wide range of IP practice.

May 4, 2021

Thousands of women IP professionals are gathering virtually on Tuesday, May 4, 1:30-2:30 PM to discuss themes of optimism and hard work from Michelle Obama's memoir, Becoming. Cantor Colburn is proud to host a discussion group hosted by partners Jenae Gureff and Michelle Ciotola. RSVP: contact@cantorcolburn.com.

October 22, 2020

AIPLA's Annual Meeting is virtual in 2020, taking place from October 22-30, 2020. Partner Jenae Gureff, who chairs AIPLA's Mentoring Committee, will attend.

September 30, 2020

Hartford, Connecticut and Beyond

Cantor Colburn is hosting an AIPLA women's networking and bourbon tasting event via Zoom on Wednesday, September 30, 2020 from 6-7 PM EST, "Building Bonds Over Bourbon: Conversations with IP Colleagues." Our program will enhance networking skills: we'll have a bourbon tasting, learn and practice techniques for building relationships, and discuss IP issues in breakout groups.

May 6, 2020

Jenae Gureff will attend AIPLA (American Intellectual Property Law Association) Virtual Spring Meeting on May 6-8, 2020. Jenae chairs the AIPLA Mentoring Committee and will co-host a networking event. Jenae has been hosting networking events at each of AIPLA's annual and spring meetings since October 2018.

January 28, 2020

Phoenix, AZ

Partner Jenae Gureff will attend the American Intellectual Property Law Association Mid-Winter Institute, January 28-31 in Phoenix. She is an active member of the American Intellectual Property Law Association, and is in her third year as Chair of the Mentoring Committee.

December 12, 2019

Washington, D.C.

Cantor Colburn is proud to sponsor the 2019 IPO Education Foundation Awards Dinner which recognizes the 46th Inventor of the Year, IP Video Contest Winners, and more. The event takes place on December 12, 2019 in Washington, D.C.

October 24, 2019

Washington, D.C.

The American Intellectual Property Law Association (AIPLA) will hold its annual meeting October 24-26, 2019, near Washington, D.C. in Fort Washington, Maryland. Jenae Gureff, Partner at Cantor Colburn and Chair of the AIPLA Mentoring Committee, will attend.

May 15, 2019

Philadelphia

April 25, 2019

U.S. Patent and Trademark Office, Alexandria Virginia

Members of Cantor Colburn's Design Patents Practice Group will attend USPTO Design Day on April 25, 2019 in Alexandria, VA. Cantor Colburn is the #3 largest filer of design patents in the country and several of our attorneys attend Design Day every year. Partner Jenae Gureff gave the presentation, "Report from the Front Line: PTAB Decisions."

January 30, 2019

Tampa, Florida

October 25, 2018

Washington, D.C.

The American Intellectual Property Law Association (AIPLA) will hold its Annual Meeting October 25-27, 2018, in Washington, D.C. Partner Jenae Gureff, chair of the AIPLA Mentoring Committee, will attend the event.

May 14, 2018

Seattle, Washington

Jenae Gureff will attend AIPLA Spring Meeting in Seattle on May 14-17, 2018.

April 25, 2018

Alexandria, VA

Members of Cantor Colburn's Design Patents Practice Group will attend USPTO Design Day on April 25, 2018 in Alexandria, VA. Cantor Colburn is the #3 largest filer of design patents in the country and several of our attorneys attend Design Day every year. Design Practice Co-Chair Dan Drexler will be a panelist at the event.

January 24, 2018

Palm Springs, California

Partner Jenae Gureff will attend the American Intellectual Property Law Association MidWinter Meeting, January 24-27 in Palm Springs. She is an active member of the American Intellectual Property Law Association, and is the current Chair of the Mentoring Committee, having recently served as Vice Chair.

October 19, 2017

Washington, D.C.

The American Intellectual Property Law Association (AIPLA) held its annual meeting October 19-21, 2017, in Washington, D.C. Jenae Gureff, Counsel in the D.C. office, became Chair of AIPLA's Mentoring Committee.

May 17, 2017

San Diego, California

Cantor Colburn attorney Jenae Gureff attended the American Intellectual Property Law Association (AIPLA) 2017 Spring Meeting. Gureff is Vice Chair of the Mentoring Committee and is Chair of the Pairings Subcommittee.

October 27, 2016

Washington, D.C.

The American Intellectual Property Law Association (AIPLA) held its annual meeting October 27-29, 2016, in Washington, D.C.

April 19, 2016

Alexandria, Virginia

This year is the 10th Anniversary of the USPTO Design Day. Design Day is on April 19 and takes place at the PTO. The free seminar is attended by United States Patent and Trademark Office Design Examiners, Managers, Design Patent Practitioners and Industrial Designers from across the country.

October 22, 2015

Washington, D.C.

The American Intellectual Property Law Association (AIPLA) will hold its annual meeting October 22-24, 2015, in Washington, D.C.

April 30, 2015

Los Angeles, California

January 28, 2015

Orlando, Florida

Washington, D.C.-based Cantor Colburn associate Jenae Gureff attended the AIPLA 2015 Mid-Winter Institute meeting in Orlando. Gureff serves on the AIPLA Mentoring Committee and chairs the Pairings Subcommittee.

May 15, 2014

Philadelphia, Pennsylvania

The 92nd Annual Dinner in Honor of the Federal Judiciary

March 28, 2014

New York, New York

AIPLA 2013 Spring Meeting

May 1, 2013

Seattle, Washington
Professional Affiliations
American Intellectual Property Law Association
Chair, Membership Committee
Chair, Mentoring Committee, 2017-2020
Vice Chair, Mentoring Committee, 2015-2017
Biomedical Engineering Society
Intellectual Property Owners Association (IPO)