Professionals
Practice Areas
Technologies
Automotive Technology
Electrical Engineering & Electronics
Medical Devices
Metallurgy & Ceramics
Nanotechnology
Semiconductor Devices & Processing Methods
Energy
Chemistry
Polymer & Materials Science
Honors
Pratt & Whitney: Two Eagle Awards
Yardney Technical Products: NASA Space Act Award; SBA Tibbetts Award
Admissions
U.S. Patent and Trademark Office, 2004
State of Connecticut, 2008
Education
University of Connecticut School of Law, J.D., with honors, 2008
The University of Nantes, Visiting Scientist, 1994-1995
Cornell University, Ph.D., Chemistry, 1995
Cornell University, M.S., Inorganic Chemistry, 1991
Grinnell College, B.A., Chemistry, 1989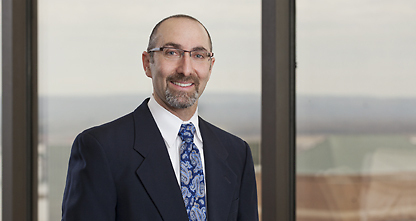 Grant M. Ehrlich, Ph.D.
Partner and Chair, Energy Storage, Batteries, and Materials Practice
Grant Ehrlich, Ph.D. supports technology-based companies in the development and implementation of effective intellectual property (IP) strategies. He has drafted and prosecuted patents and has prepared non-infringement, invalidity, and freedom-to-operate opinions in fields spanning batteries, fuel cells, thermoelectrics, displays, sensors, medical devices, metallurgy, magnetic and magnetocaloric materials, ceramics, water treatment, heating systems, lubricants, detergents, coatings, and phosphors. Grant has contributed to multiple IPR petitions directed to lithium-ion battery technology. In addition, Grant has significant licensing experience and has prepared and negotiated domestic and international patent license agreements, technology transfer agreements, and material transfer agreements. Grant's counsel is informed by his engineering experience at Pratt & Whitney in the Systems Design and Component Integration (SD&CI) Group, at UTC Fuel Cells where he led an electrode development team, his scientific experience at Yardney Technical Products where he led a lithium-ion battery technology development effort, and his Ph.D. in chemistry. He also has litigation experience as an expert in batteries, electrochemistry, and materials characterization.
Experience Highlights
Partner, Cantor Colburn LLP, 2017-present
Counsel, Cantor Colburn LLP, 2016
Associate, Cantor Colburn LLP, 2008-2015
Patent Agent, Cantor Colburn LLP, 2007-2008
Program Manager, Pratt & Whitney, 2004-2007
Project Leader, UTC Fuel Cells, 2000 – 2004
Research Scientist, Yardney Technical Products, Engineering, 1995-2000
News
The Patent Lawyer

July/August 2022

"US Parameters of Export Control when Patenting Dual-Use Technologies," appears in the July/August 2022 Issue of The Patent Lawyer, by Grant Ehrlich, Ph.D.

IP Law360

May 19, 2022

IP Law360 published the expert analysis article, "Export Compliance Tips For Patenting Dual-Use Tech," on May 19, 2022, written by Cantor Colburn attorneys Grant Ehrlich, Ph.D., Esq. and Maggie Russell, Esq.

September 9, 2019

May 10, 2019

Cantor Colburn partner Grant M. Ehrlich, Ph.D., Esq. is the co-author of a chapter in the 5th edition of Linden's Handbook of Batteries, published on May 10, 2019. This is the third edition of the Handbook that Dr. Ehrlich has contributed to, having compiled the works of thousands of scientific studies to write an up-to-date chapter on lithium-ion batteries.

September 8, 2018

Cantor Colburn is proud to be a Silver Sponsor of the New England Parkinson's Ride on September 8, 2018, in Old Orchard Beach, Maine, at which cyclists ride up to 100 miles to raise awareness and funds for Parkinson's research. This is Cantor Colburn's third consecutive year sending a team of cyclists and sponsoring the event.

Legal 500 USA 2018

June 4, 2018

Cantor Colburn LLP has been recommended as a Leading Firm by the Legal 500 United States 2018 in Intellectual Property for Patents: prosecution (including re-examination and post-grant proceedings). This is the ninth consecutive year that Cantor Colburn has been recognized for this highly selective honor.

September 9, 2017

Cantor Colburn sponsored Team Cantor Colburn at the New England Parkinson's Ride on September 9, 2017, in Old Orchard Beach, Maine, at which cyclists ride up to 100 miles to raise awareness and funds for Parkinson's research. Team Cantor Colburn raised more than $13,000.

June 15, 2017

Cantor Colburn partner Grant M. Ehrlich, Ph.D. has been elected the 72nd president of the Connecticut Intellectual Property Law Association (CIPLA). Joining him on the executive committee as the 2017-2018 program chair is fellow partner Leslie-Anne Maxwell, Ph.D.

Law360

April 28, 2017
Events
March 20, 2023

Orlando, Florida

December 5, 2022

San Diego, California

The Advanced Automotive Battery Conference (AABC), December 5-8, 2022 in San Diego, is in its 22nd year of offering networking with chief battery technologists from leading automotive OEMs, who will share their development trends and projected battery needs, as well as their key suppliers who will present their latest offerings and roadmaps for the future. Grant Ehrlich, Ph.D., Esq. who chairs the Cantor Colburn Energy Storage, Batteries, and Materials Practice Group, will attend.

May 29, 2022

Vancouver, British Columbia

December 7, 2021

San Diego and Conference

October 7, 2021

UConn Law alumni Nancy Kennedy, Ali Caless, and Grant Ehrlich will attend the UConn Law Intellectual Property and Technology Law Society Student-Practitioner Meet & Greet on October 7, 2021.

March 9, 2021

Cantor Colburn Partner Grant Ehrlich will attend the virtual International Battery Summit 2021 on March 9-11, 2021, an important annual event for battery technologists from leading OEMs, cell manufacturers, pack integrators, and the entire supply chain. Grant is the Chair of the Firm's Energy Storage, Battery, and Materials Practice Group.

July 27, 2020

Virtual

May 20, 2019

Boston, Massachusetts

Grant Ehrlich attended a presentation by Director Iancu, hosted by the Boston Patent Law Association, on May 20, 2019 at the UMass Club in Boston.

March 25, 2019

Fort Lauderdale, Florida

Partner Grant Ehrlich, Ph.D., will attend the 2019 International Battery Seminar & Exhibit, which takes place in Fort Lauderdale, Florida, March 25-28, 2018. Grant is an expert on lithium-ion batteries, and has authored chapters in several battery reference books, in addition to many other articles on the subject.

January 5, 2019

Hawaii

The 2019 International Coalition for Energy Storage and Innovation (ICESI) and Pacific Power Source Symposium (PPSS) joint meeting will be held in Hawaii January 5-10, 2019. Partner Grant Ehrlich will moderate a panel discussion on Grid Energy Storage Systems with panelists Shirley Meng of UC San Diego, Andreas Jossen of TUM, Tobias Placke of Uni Muenster and Vincent L. Sprenkle of PNNL.

May 13, 2018

Seattle, Washington

Partner Grant E. Ehrlich, Ph.D., will attend the 233 Electrochemical Society Meeting on May 13-17, 2018 in Seattle, WA. The ECS biannual meetings are a forum for sharing the latest scientific and technical developments in electrochemistry and solid state science and technology.

March 26, 2018

Fort Lauderdale, Florida

Partner Grant Ehrlich, Ph.D., will attend the 2018 International Battery Seminar & Exhibit, which takes place in Fort Lauderdale, Florida, March 26-29, 2018. Ehrlich is an expert on lithium-ion batteries, and has authored chapters in several battery reference books, in addition to many other articles on the subject.

January 31, 2018

New Haven, Connecticut

The Connecticut Intellectual Property Law Association (CIPLA) presents the workshop, "How IP Motivates Investors and Helps Price Drugs" on Wednesday, January 31, 2018 at the Graduate Club in New Haven, which includes a pre-event workshop for investors, entrepreneurs and attorneys.

October 31, 2017

Arlington, Virginia

Partner Grant Ehrlich, Ph.D., will speak at the Lithium Battery Materials & Chemistries 2017 Conference, which takes place in Arlington, Virginia, October 31- November 2, 2017. Ehrlich is an expert on lithium-ion batteries, and has authored chapters in several battery reference books, in addition to many other articles on the subject.

May 11, 2017

New Haven, Connecticut

Cantor Colburn is pleased to sponsor the Connecticut Intellectual Property Law Association's Judge's Dinner on May 11, 2017.

March 20, 2017

Fort Lauderdale, Florida

Grant Ehrlich, Ph.D., Esq., attended International Battery Seminar in Fort Lauderdale, Florida in March 2017. Ehrlich, a partner in the Hartford office, is an expert on lithium-ion batteries, and has authored chapters in several battery reference books, in addition to many other articles on the subject.

March 29, 2016

New Britain, Connecticut

The Connecticut Bar Association Young Lawyers' Section presents, "Representing the Startup Venture in Connecticut," on March 29, a two-hour presentation with CLE credit available. Counsel Grant Ehrlich, Ph.D., JD and other panelists will discuss what attorneys need to know when representing a start up company in Connecticut, including the important aspects in business formation and IP that are different from traditional businesses, as startup companies are often in technological fields and involve outside investors.

November 10, 2015

Hartford, Connecticut

Cantor Colburn is proud to sponsor the Innovation Summit, presented by the Connecticut Technology Council.

October 26, 2015

New York, New York

The Licensing Executives Society (LES) Annual Meeting is on October 25-28, 2015 in New York City.

July 21, 2015

Long Beach, California

Grant Ehrlich, Ph.D., Esq., will attend 3rd Advanced Battery Outlook in Long Beach, California in July 2015. Ehrlich, an associate in the Hartford office, is an expert on lithium-ion batteries, and has authored chapters in several battery reference books, in addition to many other articles on the subject.

November 12, 2014

Wallingford, Connecticut

Cantor Colburn is the founding sponsor of the Connecticut Innovation Summit, the state's largest tech networking event, where innovative, emerging, and disruptive companies, premier service providers, and elite technology leaders meet and celebrate innovation. The event concludes with an Awards Ceremony, hosted by Co-Managing Partner Michael Cantor, which will recognize the next generation of high-growth companies in Connecticut.

October 28, 2014

Hartford, Connecticut

Cantor Colburn is sponsoring reSET's 4th Annual Social Enterprise Awards, a celebration of Connecticut social entrepreneurs with the most viable, sustainable, market-based solutions for some of our state's most pressing social problems.

November 7, 2013

Wallingford, Connecticut

Cantor Colburn is a platinum sponsor of the Connecticut Innovation Summit, a day-long program for executives, entrepreneurs, rising technology leaders, and investors to come together to share ideas and promote innovation. The program includes mentor meetings, a funding fair, a sales pitch competition, a poster expo, and an awards ceremony.

October 17, 2013

UCONN Institute of Materials Science, Storrs Campus, Connecticut

Association of University Technology Managers 2013

September 9, 2013

Boston, Massachusetts

Third Annual Connecticut-Israel Technology Summit

June 12, 2013

The Oakdale Theatre, Wallingford, CT
Professional Affiliations
Institute of Material Sciences Board Member, University of Connecticut
American Intellectual Property Law Association
Association of University Technology Managers
American Bar Association
Intellectual Property Owners Association (IPO)
Licensing Executives Society
Connecticut Intellectual Property Law Association, President, 2017-2018
The Electrochemical Society, Member and former Chair of the New England Section
SAE, Committee G-21B on Counterfeit and Substandard Batteries
Community/Civic Involvement
Volunteer Advisor, UConn-TIP (Technology Incubation Program) Bioscience, Entrepreneurship & STEM, 2016-present
Co-Chair, 2017 Force 5 North American Championship
Organizing Chair, 2017 CT/RI Junior Lightning District Championship