Professionals
Practice Areas
Technologies
Automotive Technology
Computer Science & Software
Electrical Engineering & Electronics
Energy
Environmental Engineering
Internet & E-Commerce
Mechanical Engineering
Medical Devices
Optics
Semiconductor Devices & Processing Methods
Telecommunications
Admissions
U.S. Patent and Trademark Office, 2004
State of New Jersey, 2001
Commonwealth of Pennsylvania, 2001
Education
Temple University School of Law, J.D., 2001
Duke University, B.S., Mechanical Engineering, 1998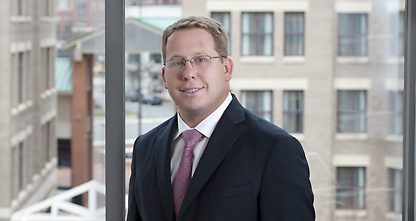 Howard I. Levy
Partner
Howard Levy became a patent attorney because he found it was the best way for him to contribute to the advancement of science and technology. Howard's favorite part of his job is meeting with inventors, learning about their work and helping them obtain patents that encourage further innovation. Howard's talent for quickly understanding various technologies related to aerospace, power generation systems, electronics, semiconductors, computer science and more allows him to easily connect with inventors working in all sorts of industries. Howard also has a particular ability to encourage inventors to think differently about their own inventions. He often leads them to innovate in real-time, resulting in additional innovations that have the potential to increase revenue and provide greater overall protection.
An innovator himself, Howard developed his unique accelerated examination (AE) practice over the course of many years. Howard discovered that AE allows his clients to maintain a level of control over their patent applications that is unmatched in the US and around the world. He is always prepared to discuss this option and welcomes any interest from his clients and his colleagues.
Howard has drafted and prosecuted thousands of patents related to mechanical, electrical and computer science fields. In addition to his domestic practice, Howard manages a large foreign prosecution docket.
Howard's clients' technologies include phased-arrays and active electronically scanned arrays (AESAs), phased-power generation technologies, materials science, controls, automotive and aerodynamic fields, rotary electric machines, electro-mechanical devices and circuits, micro-electrical mechanical systems (MEMS), packaging technologies, signal generation, transmission, reception and processing, semi-conductor manufacturing, computer storage and handling systems, e-commerce and business methods, error correction coding, cryptology, digital media, missile and weapons systems, radomes, spacecraft design, mining technologies, fasteners and apparel.
Howard enjoys travel and cooking. A wrestler in high school and college, he continues to coach the sport and studied Brazilian Jiu Jitsu for many years as a way to stay on the mats. A native Philadelphian and Cameron Crazy at Duke, Howard remains a fan of the Eagles (Go Birds!), the Phillies, the Sixers and Duke basketball.
Experience Highlights
Partner, Cantor Colburn LLP, 2015-present
Counsel, Cantor Colburn LLP, 2013-2014
Associate, Cantor Colburn LLP, 2007-2012
Associate, Stein, McEwen & Bui LLP, 2004-2007
Associate, Staas & Halsey LLP, 2002-2004
Associate, Oblon, Spivak, 2001-2002
Events
October 11, 2023

Alexandria, Virginia

Korean American Intellectual Property Bar Association (KAIPBA) presents the 2023 Korea-US IP Forum and PCT Roundtable on October 11, 2023, in Alexandria, Virginia. Cantor Colburn is a sponsor of the event, which features several distinguished speakers:

April 19, 2023

December 7, 2022

Arlington, Virginia

The Patents & IP Summit in Arlington, Virginia on December 7-8, 2022, will delve into the recent legal decisions, emerging technologies, and entrepreneurial momentum that are changing the IP and Patent landscape for in-house corporate counsel. Cantor Colburn partners Phil Colburn, Brad Lawrence, and Howard Levy will attend.

December 7, 2022

Washington, D.C.

March 28, 2019

The Corporate IP Counsel Forum takes place in New York City on March 28-29, 2019. Partners Brad Lawrence and Howard Levy will attend.

March 14, 2018

New York, New York

Howard Levy will lead a roundtable discussion, "Explore the Efficiency and Effectiveness of Accelerated Patent Examination," at the 10th Annual Corporate IP Counsel Forum in New York City on March 14, 2018.

June 3, 2017

USPTO, Alexandria, Virginia

Cantor Colburn is proud to have been a returning sponsor of the The National Invention Convention and Entrepreneurship Expo (NICEE) on Saturday, June 3, 2017, at the U.S. Patent and Trademark Office. Cantor Colburn sponsored the Most Patentable Award, and provided pro bono legal assistance to the winner, which includes a patent search, patent filing, and prosecution of a patent application.
Professional Affiliations
American Bar Association
American Intellectual Property Law Association
Intellectual Property Owners Association