Professionals
Practice Areas
Technologies
Automotive Technology
Computer Science & Software
Electrical Engineering & Electronics
Energy
Environmental Engineering
Internet & E-Commerce
Mechanical Engineering
Medical Devices
Optics
Semiconductor Devices & Processing Methods
Telecommunications
Admissions
U.S. Patent and Trademark Office, 2004
State of New Jersey, 2001
Commonwealth of Pennsylvania, 2001
Education
Temple University School of Law, J.D., 2001
Duke University, B.S., Mechanical Engineering, 1998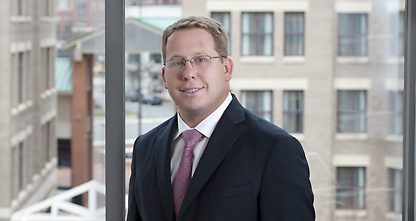 Howard I. Levy
Partner
Howard Levy concentrates his practice on patent prosecution, appeals, and patent strategy counseling for clients in all mechanical, electrical, and computer science fields. He is experienced in both domestic and foreign prosecution of patent applications relating to phased-arrays and active electronically scanned arrays (AESAs). Howard also has a wealth of experience in phased-power generation technologies, materials science, controls, automotive and aerodynamic fields, rotary electric machines, electro-mechanical devices and circuits, micro-electrical mechanical systems (MEMS), packaging technologies, signal generation, transmission, reception and processing, semi-conductor manufacturing, computer storage and handling systems, e-commerce and business methods, error correction coding, cryptology, digital media, missile and weapons systems, radomes, spacecraft design, mining technologies, fasteners, and apparel. He has drafted and prosecuted hundreds of patents.
Experience Highlights
Partner, Cantor Colburn LLP, 2015-present
Counsel, Cantor Colburn LLP, 2013-2014
Associate, Cantor Colburn LLP, 2007-2012
Associate, Stein, McEwen & Bui LLP, 2004-2007
Associate, Staas & Halsey LLP, 2002-2004
Associate, Oblon, Spivak, 2001-2002
Events
March 28, 2019

The Corporate IP Counsel Forum takes place in New York City on March 28-29, 2019. Partners Brad Lawrence and Howard Levy will attend.

March 14, 2018

New York, New York

June 3, 2017

USPTO, Alexandria, Virginia

Cantor Colburn is proud to have been a returning sponsor of the The National Invention Convention and Entrepreneurship Expo (NICEE) on Saturday, June 3, 2017, at the U.S. Patent and Trademark Office. Cantor Colburn sponsored the Most Patentable Award, and provided pro bono legal assistance to the winner, which includes a patent search, patent filing, and prosecution of a patent application.

March 10, 2015

New York City

Partner Howard Levy will attend INTA's 3D Printing/Additive Manufacturing: Cutting-Edge IP and Business Implications conference in New York City on March 10-22, 2015.
Professional Affiliations
American Bar Association
American Intellectual Property Law Association
Intellectual Property Owners Association