Professionals
Technology Areas
Automotive Technology
Computer Science & Software
Electrical Engineering & Electronics
Energy
Environmental Engineering
Internet & E-Commerce
Mechanical Engineering
Medical Devices
Optics
Semiconductor Devices & Processing Methods
Telecommunications
Practice Areas
Admissions
U.S. Patent and Trademark Office, 2004
State of New Jersey, 2001
Commonwealth of Pennsylvania, 2001
Education
Temple University School of Law, J.D., 2001
Duke University, B.S., Mechanical Engineering, 1998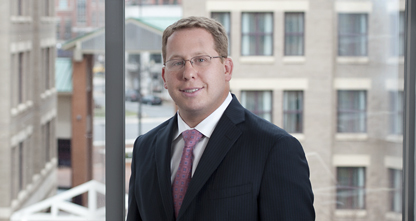 Howard I. Levy
Partner
Howard Levy concentrates his practice on patent prosecution, appeals, and patent strategy counseling for clients in all mechanical, electrical, and computer science fields. He is experienced in both domestic and foreign prosecution of patent applications relating to power generation technologies, materials science, controls, automotive and aerodynamic fields, rotary electric machines, electro-mechanical devices and circuits, micro-electrical mechanical systems (MEMS), packaging technologies, signal generation, transmission, reception and processing, semi-conductor manufacturing, computer storage and handling systems, e-commerce and business methods, error correction coding, cryptology, digital media, missile and weapons systems, radomes, spacecraft design, mining technologies, fasteners, and apparel. He has drafted and prosecuted hundreds of patents.
Experience Highlights
Partner, Cantor Colburn LLP, 2015-present
Counsel, Cantor Colburn LLP, 2013-2014
Associate, Cantor Colburn LLP, 2007-2012
Associate, Stein, McEwen & Bui LLP, 2004-2007
Associate, Staas & Halsey LLP, 2002-2004
Associate, Oblon, Spivak, 2001-2002
News
December 18, 2014

Cantor Colburn is pleased to announce the election of four new partners, the promotion of five associates to counsel and of one paralegal to associate. The new partners are Victor Kernus, Jaehoon Kim, Howard Levy, and Jeffrey Waters. The new counsel are Eric Baron, Michelle Ciotola, Krista Kostiew, Karen LeCuyer, and Jamie Platkin. Chris Whalley was promoted from Intellectual Property Paralegal to Associate. The promotions are effective January 1, 2015.

Washington Business Journal

January 2, 2013
Events
June 3, 2017

USPTO, Alexandria, Virginia

Cantor Colburn is proud to have been a returning sponsor of the The National Invention Convention and Entrepreneurship Expo (NICEE) on Saturday, June 3, 2017, at the U.S. Patent and Trademark Office. Cantor Colburn sponsored the Most Patentable Award, and provided pro bono legal assistance to the winner, which includes a patent search, patent filing, and prosecution of a patent application.

March 10, 2015

New York City

April 9, 2014

The U.S. Department of Commerce's United States Patent and Trademark Office (USPTO) will host an Additive Manufacturing Partnership Meeting on Wednesday, April 9, 2014 at the USPTO headquarters in Alexandria, Virginia, to be attended by the Co-Chairs of the Additive Manufacturing Practice Group at Cantor Colburn, William Cass and William Simons. Howard Levy, Counsel and a member of the practice group, is also attending. Additive manufacturing, also known as 3D printing, is a process of making three dimensional solid objects from a digital model. The technology is growing in use, including in such fields as jewelry, footwear, architecture, engineering and construction, automotive, aerospace, dental and medical industries.

The meeting will serve as a forum for sharing ideas, experiences, and insights between stakeholders and the USPTO. Industry representatives will also provide an overview of the application of additive manufacturing in different technologies. Individual opinions are sought from varying participants, and the meetings are intended to be informal in nature. These partnership groups are formed with full recognition of the USPTO's responsibility under the Federal Advisory Committee Act (FACA), and are not established as FACA compliant committees.
Professional Affiliations
American Bar Association
American Intellectual Property Law Association
Intellectual Property Owners Association