Professionals
Practice Areas
Technologies
Automotive Technology
Computer and Systems Engineering
Computer Science & Software
Electrical Engineering & Electronics
Mechanical Engineering
Optics
Polymer & Materials Science
Semiconductor Devices & Processing Methods
Telecommunications
Admissions
District of Columbia, Pending
U.S. Patent and Trademark Office, 2010
State of Illinois, 2008
Education
University of Detroit Mercy School of Law, J.D., 2007
Lawrence Technological University, B.S., Electrical Engineering, 2002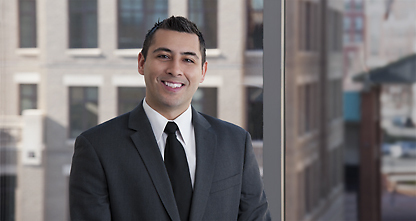 Matteo D. Pedini
Counsel
Matteo Pedini's practice focuses on the preparation and prosecution of domestic and foreign patents for electrical and computer-related technologies. He has substantial experience in the following technologies: semiconductor design and fabrication; server memory, processors, and data transfer; information access and delivery; data storage systems; aircraft power systems; automotive exhaust and powertrain systems; digital media systems; telecommunication systems; image forming devices; wireless communication; and electro-mechanical control systems. While attending law school, he served as an intellectual property law clerk for three years drafting domestic patent applications. Before his law career, Matteo served as an electrical engineer for a domestic automotive supplier and assisted in the design of 42-volt electrical systems for hybrid high-voltage automobiles and heavy trucks. Matteo also has extensive experience conducting personal interviews with examiners at the U.S. Patent and Trademark Office concerning patent applications.
Experience Highlights
Counsel, Cantor Colburn LLP, 2019-present
Associate, Cantor Colburn LLP, 2012-2018
Associate, Stanzione & Kim LLP, 2010-2012
Associate, Roylance, Abrams, Berdo & Goodman, LLP, 2008-2010
IP Academy Intern, Dickinson Wright, PLLC, 2006-2008
Patent Law Clerk, Harness Dickey & Pierce, PLC, 2004-2006
Electrical Engineer, AFL Automotive Operations, 2002-2003
Co-Op Engineer, AFL Automotive Operations, 2000-2002
News
December 19, 2018

Cantor Colburn LLP, the fourth largest patent law firm in the U.S., welcomes the new year with the elevation of James Wimpe to its partnership. Also effective January 1, 2019, Associates Tina Dorr, Ph.D., Alicia Hayter, Jared Howenstine, David Kincaid, Matteo Pedini, and Wanli Wu will be promoted to Counsel. Jessica Zimberlin Eastman, Ph.D., will be promoted to Senior Patent Agent.

Washington Business Journal

October 2, 2012
Professional Affiliations
American Bar Association
Intellectual Property Owners Association (IPO)
Patent Lawyer's Club of Washington, D.C.