News
Attorneys
Print PDF
The 15th Annual Patents for Financial Services Summit
July 25, 2018
New York, New York
Cantor Colburn is sponsoring the 15th Annual Patents for Financial Services Summit on July 25-26, 2018 in New York City. The Patents for Financial Services Summit provides a platform for in-house counsel and thought leaders in the financial services industry to discuss the issues, trends, strategies, and highlights of patent-related topics. Cantor Colburn Partner Brad Lawrence will moderate a panel entitled, "Explore the Issues Confronting Artificial Intelligence." On the panel with Brad are Laurence Bromberg, IP Counsel at Morgan Stanley, Tanguy de Carbonnieres, Deputy General counsel at Fannie Mae, Joshua Death, Associate VP, IP, and Patentable Innovations at TD Bank, Jason Eakes, Assistant GC at Capital One, and Rodger Sadler, Managing Director, Strategic Partnerships at Cote Capital.
Brad focuses his practice on IP counseling including the protection of clients' inventions through carefully planned patent procurement, integrated with other strategic considerations, including development of licensing strategies and analysis of the IP and product positions of others.
Cantor Colburn Co-Managing Partner Philmore Colburn II will also attend the summit.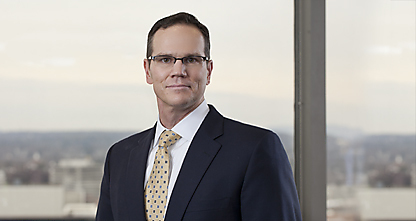 Brad Lawrence, Partner, Cantor Colburn LLP