Professionals
Practice Areas
Technologies
Aerospace & Aeronautics
Automotive Technology
Computer Science & Software
Electrical Engineering & Electronics
Mechanical Engineering
Nanotechnology
Optics
Semiconductor Devices & Processing Methods
Telecommunications
Honors
Eta Kappa Nu, Electrical Engineering Honor Society
Tau Beta Pi, Engineering Honor Society
Kappa Mu Epsilon, Mathematics Honor Society
Admissions
District of Columbia, 2012
U.S. District Court, Eastern District of Virginia, 2011
U.S. Patent and Trademark Office, 2007
Commonwealth of Virginia, 2007
Education
The Ohio State University, Moritz College of Law, J.D., 2007
Virginia Tech, M.S., Electrical Engineering, 1993
Tennessee Tech University, B.S., Electrical Engineering, 1990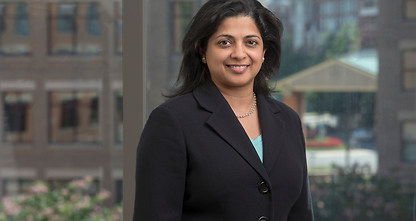 Usha M. Parker
Partner
Usha Parker's practice focuses on patent drafting and prosecution. Her experience spans a wide range of technologies including automotive radar and lidar, vehicle automation, artificial intelligence, including advances in neural network architecture and image processing, communication systems and infrastructure, and semiconductor devices and processing systems. Prior to attending law school, Usha worked as an electrical engineer at Motorola and at a Navy lab in areas including satellite and cellular telephony, radar systems, and missile fuses.
Experience Highlights
Partner, Cantor Colburn LLP, 2022-present
Counsel, Cantor Colburn LLP, 2020-2021
Associate, Cantor Colburn LLP, 2011-2019
Associate, Baker Hostetler, 2010-2011
Associate, Oblon Spivak, 2007-2010
Senior Staff Engineer, Motorola, Chandler, AZ, 1995-2004
Electronics Engineer, Naval Surface Warfare Center, Dahlgren, VA, 1990-1995
Publications
Chapter 4: Patents in Electronic Commerce in Internet Law for the Business Lawyer, Juliet M. Moringiello, ed. (2nd ed. 2012) (Nguyen and Parker)
Treatment Of The Recapture Doctrine At The BPAI Post North American Container Oblon Spivak Patents Post-Grant Blog April 2, 2010 (Baker and Parker)
It's OK To Pay Fact Witnesses for Their Time Intellectual Property Today October 2006 (Gholz and Parker)
News
December 7, 2021

January 1, 2020
Events
June 15, 2022

virtual

Cantor Colburn is pleased to sponsor the AIPLA 2022 Electronic and Computer Patent Law Virtual Summit on June 15-16, 2022.

March 25, 2022

New York City

The 100th Dinner in Honor of the Federal Judiciary will be held on March 25, 2022 in New York City.

October 28, 2021

National Harbor, Washington, D.C. and virtual

October 27, 2021

Virtual

The United States Patent and Trademark Office (USPTO) and American Intellectual Property Law Association (AIPLA) hosted the 28th Annual Partnering in Patents event as a pre-conference event to the annual meeting. Usha Parker was a panelist for Legal Updates on Anticipation and Obviousness.

April 26, 2021

During the Connecticut Invention Convention, more than 500 engineers, academics, scientists, entrepreneurs, and legal professionals will judge students' inventions and inspire young minds to pursue science and engineering studies and careers.

April 1, 2016

New York, New York

March 27, 2015

New York, New York

At the New York Intellectual Property Law Association's 93rd Annual Dinner in Honor of the Federal Judiciary, former United States Secretary of State Keynote Speaker Madeleine K. Albright will be the keynote speaker and Honorable James D. Smith, Chief Administrative Patent Judge, United States Patent and Trademark Office, will receive the Outstanding Public Service Award.
Professional Affiliations
American Intellectual Property Law Association (AIPLA)
Vice Chair, Electronic and Computer Law Committee (ECLC)
Chair ECLC Prep & Pros Subcommittee, 2020-2021
Intellectual Property Owners Association (IPO)